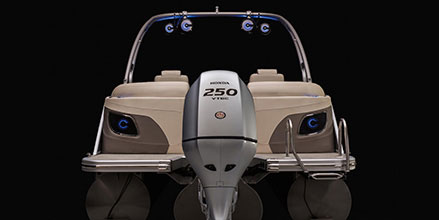 Choosing the Right Outboard for Your Pontoon Boat
One of the most important aspects of any boat is the motor. When you customize your own Bennington pontoon boat, you can choose which high-performance outboard motor is best for your individual needs. However, with so many amazing options available to the modern boater, it can be tough to know where to start. Here we have an easy to read guide on the top brands in outboards to help you narrow down which option is right for your boating needs.
How to Choose an Outboard Motor for Your Pontoon Boat
When it comes to finding the best outboard to fit your needs, you'll need to start by investigating what each of the top brands has to offer. Whether you're into fishing, love spending the day water skiing, or you simply like to cruise along on the water — performance matters.
Evinrude
The Evinrude pontoon series outboards are the only motors specifically designed for pontoon boats. They offer all the benefits of the popular Evinrude E-TEC but provide even greater thrust and reduced vibration to give you a smooth and quieter ride. Additionally, the optimized gear ratios and unique software mapping provide improved throttle response, faster acceleration and unbeatable stopping power.
Mercury
Mercury has several outboard motor models to choose from when customizing your Bennington pontoon boat, including the Pro XS 175-300hp, Fourstroke 30-60hp and Fourstroke 75-150hp. These engines typically work best with small or medium pontoons, offering an over-sized, anti-ventilation panel that works to reduce prop slip while operating at lower speeds in the water.
Yamaha
Known for its high-performance outboards, Yamaha's HighThrust F50 and F60 model outboard motors are designed to provide plenty of power to help push your heaviest pontoon boat. Plus, they can easily be equipped with the Yamaha DualThrust propeller to direct exhaust away from the motor blades and produce up to 60 percent more forward thrust.
Honda
The Honda BF115 is ideal for powering pontoons of all sizes, featuring an impressive 40 AMPs of charging power and variable speed control. Some of our favorite features include the 4-stroke design, which is low maintenance and reliable. And the dual-overhead CAM creates more valve lift to help pull in more air, providing increased horsepower.
Suzuki
You'll love the Suzuki DF200A, which features a compact inline four-cylinder powerhead. This powerful motor is packed with technology and great for small to medium-sized pontoons. Some of the best features available with this 4-stroke engine include lots of torque, large displacement and a 3-star Ultra Low Emission rating from the California Air Resources Board (CARB).
Customize Your 2020 Bennington Pontoon Boat Today
Bennington always works with the highest quality materials and upgraded performance packages. Get ready for the summer boating season by taking a closer look at our many pontoon boat customization options. Ready to start building your boat? Contact your local Bennington dealer today for more information on making one of our pontoons your very own.