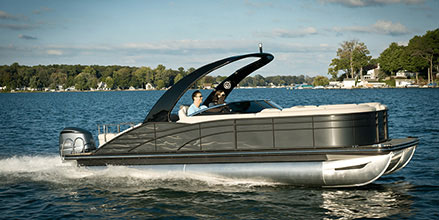 Pontoon boat Summer Safety Tips
It doesn't get much better than heading out to enjoy a long summer's day on the lake on a Bennington Pontoon Boat. It allows for you to spend some quality time with friends, family, and neighbors or to just relax on your own and leave the stresses of life back on shore.


However, a relaxing and fun day on the lake can quickly go sour when disaster strikes. If you're planning to head out on your boat, be sure to follow these boating safety tips to help prevent accidents and keep everyone safe on the water.


Common sense and awareness of your surroundings will go a long way in helping to prevent an accident from occurring during your outing.


Take the time before heading out on the water to familiarize yourself with the rules of the body of water you're on; if this is a new destination for you, look at a map or ask about unsafe areas.


Remember to pack life jackets for everyone on board. It is important that children, seniors and anyone that may have difficulty swimming is wearing their life jacket at all times.


Don't forget about pets. While we assume that dogs would happily swim forever, they too can get tired and unlike humans, they don't always know when to stop. Using toys that float and investing in a doggie life jacket can help save the life of your four-legged friend.


Performing regular boat maintenance and safety checks is one of the most important steps any responsible boater can take. This will not only help keep your boat in proper working order, but it will ensure a safer experience for you and your passengers.


Pack a supply kit that can be stored on deck in case of emergencies. This should include food, water, first aid supplies, and boating safety devices.


Once you've left the shore, practice responsible boating habits. Remember that it is unlawful to operate a boat while under the influence of alcohol. Encourage your passengers to be respectful and safe while on the boat and find teachable moments with children to show them what it means to practice boating safety.


From our team at Bennington Pontoon Boats, have a safe and happy summer!


Contact a local Bennington dealer to learn more about finding the right pontoon boat for you. Learn more about Bennington Pontoon Boats at https://www.benningtonmarine.com