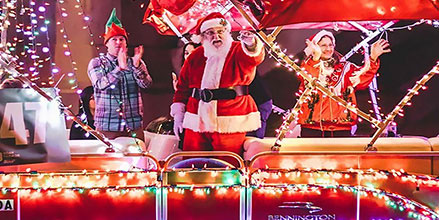 Surprise Your Family with A Pontoon Boat for Christmas
Purchase the extra-large Douglas fir because the family wants to find a pontoon boat under the Christmas tree this year. Pontoon boats are a great way to get your family and friends off the crowded lake shorelines and onto the serene water where you can just enjoy each other's company. If you want a boat that can do a little of everything, ask Santa for a pontoon boat.


Pontoon boats are great for families. They offer a mini-vacation every time you take it out on the water. They are comfortable and safe. Their flat decks with side railings allow more room for small crowds to get around compared to other types of boats. Your children can invite their friends and everyone can go out on the water at the same time. If you have teenagers who never want to hang out with you, put the pontoon boat under the tree and you automatically become the cool family to hang with. A 20' pontoon boat holds approximately 8-10 people, so two families or a group of teenage friends fit adequately.


Pontoon boats can also make great fishing boats. Pontoon watercrafts are stable and do not startle the fish. It provides copious room to walk around the boat and cast out from various locations. Good old Dad will have to reserve the boat for the guys at least one day of the year for male bonding time, fishing and a few cold ones.


Modern pontoon boats can now be customized for speed and sport. You can add a sleek sport tower package to give it functionality for water sports such as skiing and water boarding. This makes a pontoon boat perfect for your active teens. They will love the fact that they can ski on a pontoon boat that has a sporty look and feel to it. If your children aren't quite teens yet, they will love being pulled in a tube. You should plan for the future and order your watercraft with the sport tower feature.


Pontoon boats can be tailor-made to fit your expectations when it comes to luxury as well. The boats range in sizes up to 30 feet, have optional layout designs, equipment choices, and various colors. Your pontoon watercraft can be a true expression of your family's style. While cruising the lake all eyes will be on you.


Pontoon boats are perfect family-friendly, versatile gifts this season. Imagine the memories you will make when you have friends out to fish, have a few drinks, plan a picnic on the water, party like rock-stars, ski, or just relax and sunbathe. The look on your family's face when they see the pontoon boat under the tree will be priceless. They are going to love you this Christmas.