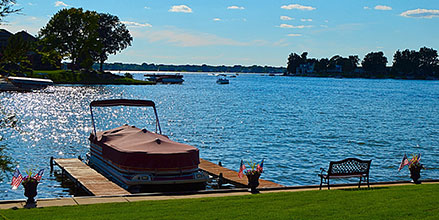 Boat Cover a Wise Way to Protect Your Investment
Whether your new Bennington pontoon boat is for fishing or simply sport or family outings, you want to take good care of it, which includes covering it up when you are not using it.
The Elements
If it is a nice night, you may not see much of a reason to cover your boat. However, if the boat goes uncovered, the morning sunlight could fade the color of the seats. Covering your boat also prevents morning dew from accumulating in the boat. And there is always the chance of rain, even if you don't think there will be any. So preserve the seats in your boat by covering them up.
Insects and Birds
Boat covers will also deter bugs and spiders. Covering your boat will ensure that you don't discover any surprise visitors when you climb aboard later. A boat cover will also keep bird droppings from ending up on the boat. It is far easier to wash a boat cover than a boat, after all.
A Longer Absence than Planned
If you decide that you will just get back into your boat before dawn the next day anyway and don't think that you will need the boat cover, you may want to cover it up just in case something prevents you from taking a boat ride the next day.
Mildew
Any mildew that accumulates on the seats or elsewhere will start excreting byproducts that can rot wood. This can result in more costly maintenance than the convenience of not using a boat cover is worth. Even if the boat seats are made with a waterproof material that won't mold, mildew can also feed on organic matter such as dirt and bird droppings. The mildew that can accumulate on a boat that isn't kept clean enough is perhaps the number one reason to always cover your boat, though cleaning it routinely will also help stave off the mildew. Keeping your boat covered means far less damage and far less work and repairs.
Thieves
An uncovered boat may spark the interest of thieves. Even if you never leave anything on your boat overnight, you never know what parts or furniture someone may want to steal. Or even if you leave pots and pans or picnic supplies on your boat, someone may steal those overnight. A covered boat is far less likely to attract any attention from anyone who may want to steal something off of your boat.
In the long run, spending a few extra minutes to cover your boat and remove it will save you money and headaches.