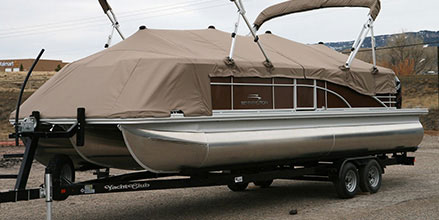 Keeping Leaves off of your Pontoon Boat
Advantages to Covering Your Pontoon Boat


From late spring, through the summer, and into fall, your pontoon boat gives you hours of enjoyment. As the end of the boating season approaches, you want to make the most of every minute. Be sure to give your boat some extra TLC as the cooler weather arrives. Keeping leaves off of your pontoon boat should be a priority. They're more than a nuisance and can cause more problems down the line. Be proactive and leaves won't be a hassle.


Don't Let the Leaves Pile Up on Your Pontoon


When you feel like a day out on the water, especially after a long week at work, the last thing you want to do is spend your time sweeping leaves off the boat. Not only is it a bother to pitch all of those leaves overboard, you take the risk of cluttering up your engine and getting debris in places where it doesn't belong. You have a simple solution. Put a cover on your pontoon boat. It's an investment that will be worth it when you see the returns that come with it.


Cut Back on the Risk of Rodents


Allow the leaves to clutter your pontoon boat and you are more likely to have a rodent problem. Squirrels, chipmunks, and mice will be looking for a way to stay warm. The leaf piles on your boat will give them the perfect place to hole up. Have your cover securely in place and you'll keep out the leaves and any critters that come with them.


Make Winterization Easier on Yourself


Keep the leaves off your boat and you'll make life easier for yourself when it is time to winterize your pontoon boat. Every year, you need to give your boat a once over before it comes out of the water, including a thorough cleaning to keep your boat in the best of shape. Avoiding a leaf pile on the boat will make it easier to tidy up before your boat goes into storage.