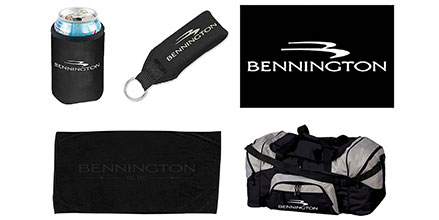 Take These Bennington Accessories Along for the Ride
Whether going out on a journey on the Atlantic Ocean, or simply taking a relaxing ride in your boat on a nearby lake, every sea traveler knows that it's not only their boat that makes a difference, but what's on that boat as well. Being prepared for anything and everything that comes your way is critical to a positive and enjoyable voyage, and the accessories at Bennington Marine ensure that you are ready for all the elements. Before setting out, consider picking up some of these accessories to make your trip even more memorable.
Floating Key Ring
This is the best $2.99 you will ever spend on a boating accessory. There has never been a boating enthusiast who hasn't lost his keys in the deep. This Floating Key Ring is filled with extra padding so it really pops up and stays afloat while you retrieve your keys, whether the water is salty or fresh.
Trimmed Can Coolie
Let's be honest: many beverages are consumed on the decks of pontoon boats. Sometimes a can of fizzy soda is the right refreshment on a hot afternoon. Other days nothing quenches your thirst quite like an ice cold bottle of iced tea. Hydration is important, and you want your drink to stay cool while you sip. This cute and comfy Trimmed Can Coolie will ensure that your La Croix or ginger ale remains super cold and delicious until the last drop.
Beach Towel
You are going to need lots of towels during your summer on the lake or ocean. Jumping from the deck of your Bennington might be the one of the best things in life. Maybe you prefer lying on your back, gazing up at the brilliant sky, or swimming until your arms hurt and you've never felt more alive. When you get back on your Benny, you will want a plush towel to dry off and wrap up in. This Beach Towel will also serve you well when reclining onboard or draped over a chaise lounge by a pool.
Black and Charcoal Duffle Bag
Ask any adventurer you come across about one of the most important accessories they take with them no matter where they go, and chances are duffle bags will be a common theme. Having a robust and functional carrying bag that can fit all of your necessities for the trip is vital and ensures that you can take whatever you need. The Bennington Duffle Bag provides a sleek and useful duffle bag, equipped with an array of pockets and sections for everything you need. Available in Black/Charcoal or Carolina Blue.
Small/Large Bennington Flag
Wherever you end up deciding to take your journey, making your mark on your surroundings is important to the memories you aim to build. Both the Small Bennington Flag and the Large Bennington Flag are the perfect statement piece to let people know that this is not your first rodeo. Hoist it on your boat, or once you anchor, and showcase your voyaging expertise. The flags come in both black and white colors for both sizes.