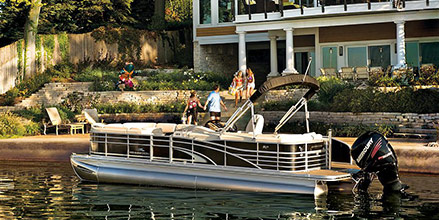 Tips for keeping your pontoon clean, safe and in tip top shape during the summer
When warm weather and school vacations hit, its time to set out on the pontoon boat. Perfect for bass fishing or groups of friends and family, these unique boats are built for making memories.


But, before you start the engine, it's important to look over your boat for off season damage or potential issues that could cause problems in the future. These self-inspections will save you time, money and repair during the life of your boat.


Avoid corrosion


There are multiple factors that can lead to or increase the risk of corrosion including; allowing the pontoon logs to rest on lake bottoms during low water. The muddy lake bottom prevents dissolved oxygen in the water from making contact with the aluminum, which relies on an oxidized layer or "skin" for corrosion protection.


Identify cracks or degradation


Giving your boat an annual "once over" is perhaps the simplest way to avoid the majority of water bound mishaps. Check the hull, decks and propellers for cracks or signs of wearing.


Check that components are in working order


Test your battery, starter and all electronics to ensure that they have not been damaged and that wires are functioning. Don't forget make a checklist of safety equipment including, fire extinguishers, life jackets, a first aid kit and a sound producing horn.


Pontoon boats are built to remain among the most trouble-free of watercraft; keeping any eye out for any of these problems will help keep your pontoon on the water for years to come.


To learn more about each Bennington Pontoon Boat model, contact a local Bennington Pontoon Boat dealer or visit https://www.benningtonmarine.com