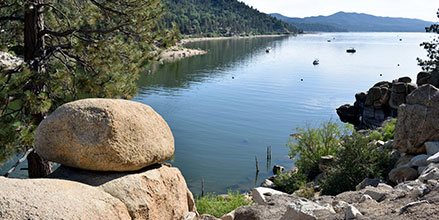 Great West Coast Lakes for Pontoon Boating
The West Coast offers some fantastic lakes for pontoon boating. If you're lucky enough to live there, at least one of them is well worth a day trip, an overnight, or a long weekend. If you're from another region of the USA, trailering your pontoon to one or more of them could be the highlight of a great vacation.
Big Bear Lake
Location: 100 miles east of Los Angeles, in the San Bernardino Mountains
This location has been called "Hollywood's backlot," having served as the set for hundreds of films. It's as beautiful as you'd expect a movie location to be, but it's also one of the top-rated fishing spots in southern California.
Rainbow trout is the most popular catch here, with bass, catfish and sunfish also popular. If you or the kids enjoy pan fishing, you'll enjoy great success pulling in bluegill, crappie, and pumpkinseed.
At an elevation of 6,750 feet, Big Bear is pleasantly cool in the summertime: 15 to 20 degrees cooler than the inland valleys. There are six marinas located around the lake and two public boat launches, and it's a popular site for parasailing, jet skiing, and water skiing.
Bass Lake
Location: 47 miles northeast of Fresno, in the Sierra Nevada foothills
This gorgeous lake, ringed by massive sugar and ponderosa pines, was the location for the John Candy movie "The Great Outdoors." Voted one of the best vacation lakes in the west by Sunset, it's popular for swimming, fishing, paddle boarding, water and jet skiing, and -- of course --pontoon boating.
Launching from one of several public launches, you can find a quiet cove and fish for 16 species of fish here, including Kokanee salmon and rainbow trout.
Lake Chelan
Location: Central Washington
This stunning, glacier-fed lake, featuring snow-capped peaks rising more than 7,000 feet over the lakeshore, is the third deepest lake in the nation. Pontoon boating and water sports are very popular here amidst glorious scenery. There are six public boat launches.
Lake Hemet
Location: Mountain Center, CA, surrounded by the San Jacinto Mountains
Airwolf and Bonanza filmed episodes at this lovely lake, set amidst tall pines, giant oaks, sage, and manzanita. It has a sense of quiet to it, even though it's one of the most popular spots in southern California for fishing and camping. For anglers, trout are stocked every two weeks; there's also good fishing for bass, bluegill, and catfish.
Lake Crescent
Location: Olympic National Park, Washington
Nestled in the northern foothills of the Olympic Mountains, this gorgeous glacially-carved lake is the second deepest in Washington. With waters clearer than the more famous Crater Lake and Lake Tahoe, it is a most scenic locale for lake boating.
You can fish for Crescenti trout and Beardslee trout here, two species that are found nowhere else. There are boat launches on the east and west ends of the lake.