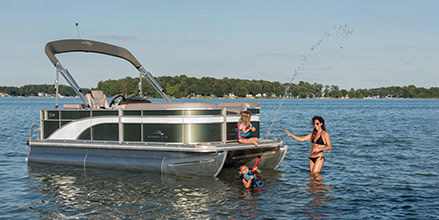 Choosing a Pontoon Boat Size to Fit Your Needs
Owning a pontoon boat allows you to enjoy many different recreational activities with your friends, family, and neighbors. It's easy to get caught up daydreaming about fishing in one of the comfortable fishing chairs on deck, diving into the lake with your family off the easy water access features, or even moving the neighborhood picnic out onto the boat for a day of fun on the lake; but how do you know what size to get?
Pontoon Boat Sizes
Determining a deck size for your pontoon boat can be a difficult decision. It's important to take into consideration both the amount of people you'd like to transport as well as the size of the body of water you plan to use the boat on.
Small Pontoon Boats
Generally, a 16 to 18-foot pontoon boat is best for small bodies of water that tend to be calmer. These boats are great for entertaining groups of up to eight people. If you plan to cruise, go fishing, or just spend time on the water with your closest family and friends, a small pontoon boat will meet your needs.
Mid-Size Pontoon Boats
Mid-size 18 to 24-foot pontoon boats are well suited for lakes and rivers that don't have large waves. Mid-size boats are well-equipped to seat up to 13 passengers. You'll be able to enjoy making memories with even more company aboard.
Large Pontoon Boats
The larger 25 to 30-foot pontoon boats are capable of cruising through rough waters and offer enough space for up to 15 people to enjoy a day on the lake. As you hit the water on a large pontoon, you can entertain, relax, or safely enjoy watersports like waterskiing, tubing, and wakeboarding.
Double Decker Pontoon Boats
The Top Deck feature is available on select SX and L models, each with a width of 8.5 feet and small to mid-size pontoon boats.
The Top Deck feature is a great way to add extra room for you and your passengers to relax, sunbathe, or get some additional shade below. When you're ready to cool off, you can slide right into the water from the Top Deck.
Your Bennington dealer will give you the exact dimensions of your pontoon with the Top Deck included. Be aware of the height around bridges or structures — a Top Deck can't be lowered the same way you can lower an arch.
How Wide is a Pontoon Boat?
It's vital to understand the dimensions of your boat as you buy a trailer, haul your boat, launch your boat, and navigate the water.
For a small pontoon boat — like any of the boats within our S Series — widths range from 8 feet narrow-beam to 8.5 feet. Pontoons within the L Series, which features small and mid-sized boats, are built with a standard width of 8.5 feet.
For our large pontoons that are in our R Series, you'll see boats ranging from 8.5 feet wide to 10 feet wide beam widths available. On our premier large Q Series boats, you won't be missed in the water with an unmistakable silhouette in 8.5 feet and 10 feet wide-beam widths.
Pontoon Boat Capacity
Before you get on the water, know the capacity of your boat.
Small pontoon boats can hold around eight people, mid-size boats can fit up to 13 people, and large pontoon boats have a capacity of up to 15 people. There is a sticker that provides capacity information next to your captain's chair if you're unsure of your boat's capacity. Always distribute weight evenly by having people, equipment, and gear spread throughout the boat.
Different Bennington pontoon and tritoon boat layouts cater to different activities — if you plan to fish, want a layout conducive to having conversations, or want a sporty model that's ideal for watersports, work with your local Bennington dealer to build and design your ideal Bennington.
If you need a little help deciding what size deck would work best for you, contact a local Bennington Pontoon Boat dealer. Your local Bennington dealer will be able to go over the variety of pontoon boat sizes and capacity so you can pick a boat that fits your needs. Bennington offers a wide variety of pontoon boats and floor plans with options that allow boaters to casually cruise, go fishing or participate in fun watersports like tubing and waterskiing.