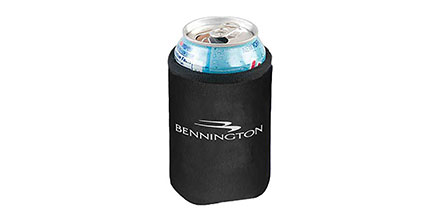 5 Must-Have Pontoon Boat Accessories
After a long winter for most of the country, Bennington Pontoon boat owners are anxious to get out on the water and cruise. But, before you pull up the anchor, you've got to make sure you have everything you need to show your #BennyStyle all summer long.
Here are 5 must have Bennington Pontoon boat accessories:
1) Bennington Pontoon Floating Key Ring
Dropping your keys into the lake is the last way you'd ever want to start out the boating season. Save yourself the time, hassle and frustration of putting a damper on your boating trip with the Bennington floating key ring.
2) Bennington Pontoon drink coolie
Nothing says fun in the sun like an ice-cold beverage; and what better way to keep your drinks cold than with your own Bennington Pontoon boat can coolie?
3) Bennington Pontoon micro plush blanket
Enjoy another lap around the lake on those cool summer nights with the Bennington micro plush blanket. Great for the kids, or for watching the sun set, it will easily fit in your on deck storage.
4) Bennington Pontoon rugby tote
Keep your sunscreen, snacks, sunglasses and towels safe inside your Bennington rugby tote. The tote has a spacious open main compartment, an open front pocket and two deep side pockets.
5) Bennington Pontoon nautical flag
No Bennington Pontoon is complete without a Benny flag waving in the wind. Show off your pontoon with pride. Available in black and white.
All accessories available online here.
Contact a local Bennington dealer to learn more about finding the right pontoon boat for you.