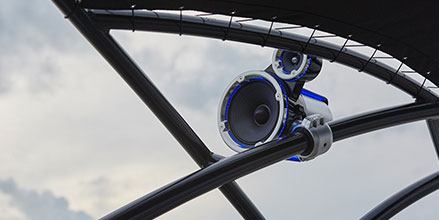 Marine Audio Systems Need to be Tough
A great boat needs a great sound system so that you and your friends can enjoy awesome music while you are on the water. And believe it or not, there is a lot of good marine sound equipment out there that is able to withstand the sun and water. Normal sound equipment won't last long out on the water, so you still need to know what to look for in a good audio system for your boat.
What types of gear you may find
You may find CD receivers, cables and other equipment that is water resistant. That means that it will hold up against splashes, but not against being submerged in the water. Waterproof equipment, on the other hand, can be submerged, though the depth and the amount of time under water can vary.
You will also need to check to make sure the equipment you want to buy is UV-resistant because it has to last against sun just as much as it has to last against water, or else it won't last for even one season.
Anti-corrosion is another feature that you will need to look for. This means that the equipment can resist rust and any effects that water may have that can make ordinary audio equipment corrode. Good quality marine audio systems have features such as a rust-resistant chassis, plated connections and a coated circuit board.
Marine Audio Components
A receiver that is able to withstand the elements will have a coated circuit board, satellite radio controls and line-level outputs.
Speakers with maximum weather protection will have features such as plastic cones and rubber surrounds. They will also need to be louder that your engine, with enough power to be heard over wind and water. And if you plan to put them near your compass, make sure that they are magnetically shielded. Subwoofers should also have plastic cones and rubber surrounds in order to last on your boat.
Speaker wire and cables should have marine-rated wiring, as bare copper has no chance of holding up in extreme weather. Tinned wires are the best way to go. If you're boating in remote locations, satellite radio is a must-have to any marine audio system.
A power inverter, while not absolutely necessary, will allow you to charge your phone or soldering iron without running extension cords all over the boat. A feature to look for in a good power inverter is a Ground Fault Circuit Interrupter to protect you from accidental shocks.
If you're shopping for a new Bennington, ask about installed audio systems. Contact a local Bennington dealer to learn more about finding the right pontoon boat for you.