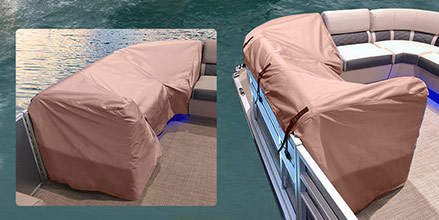 4 Reasons why you need a pontoon boat cover
Bennington Pontoon boat owners love their boats and are always looking for ways to protect their investments in order to keep them looking great, running like new and of course extending the life of their boats. So, naturally covering your boat is an easy way to preserve the look and condition of your luxury pontoon boat.


If you've been holding off on finding the right time to purchase a boat cover for your pontoon boat, here are 4 reasons why you should invest in a pontoon boat cover.


A boat cover can prevent your pontoon boat from scratches and dents that can be caused by falling twigs and branches. A cover can also protect your boat from fading, blocking the harsh rays of the sun from your boat's interior.
Keep your pontoon boat bug, pest and bird dropping free. Covering your boat can deter critters from climbing in and making your boat their home when it's not in use.
Deter casual theft. You are far less likely to be the victim of boat equipment theft if your gear is hidden by a boat cover. It prevents people from looking in and is more work for thieves, which is likely to make them move along.
Save money on storage costs. By purchasing a boat cover you'll be able to store your boat safely when not in use.


It's important to keep in mind that while boat covers are a must have when not in use during the boating season, that a standard boat cover is not the best solution for off-season coverage. Typical boat covers do not bear the weight of snow and ice like other winterization methods.


Contact a local Bennington Pontoon Boat dealer to find the right boat cover for your pontoon boat. Learn more about Bennington Pontoon Boats.