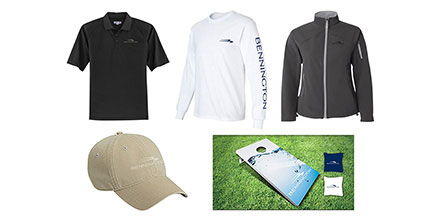 Bennington Apparel and Accessories for the Home
Show off your Benny pride with a cute T-shirt or cool polo discretely emblazoned with the Bennington name. When you join the Bennington Pontoon family you will want to own all the swag, not only to be an insider, but because these pieces are high quality performance gear. Read on to find out which accessories you have to have, whether it's boating season, or waiting for boating season.
Black Polo
This Black Polo is stylish and so much more. It not only wicks away moisture from your skin but is actually made with odor-fighting properties to keep you fresh all day while you are out on the water behind the wheel of your Bennington Pontoon Boat.
Ladies Softshell Jacket
The Ladies Softshell Jacket was certainly designed with boating in mind, but you will find you want to wear it everywhere. It's that perfect mid-weight coat for transitioning your spring wardrobe or chilly summer nights. You can go from boating to the ballgame to dinner and feel comfortable and casually sophisticated. The fabric is wind resistant and stretchy. You'll love layering with this fleece-lined jacket.
100% Heavyweight Cotton Long Sleeve T-Shirt
The Men's Long Sleeve T-Shirt is everything. It can be worn under a short sleeve shirt or over, it can be dressed up or dressed down; and it has a classic casual boating vibe. You are definitely going to want it for the boat, but it's another piece that adds much to your wardrobe at large. Wear it well into fall.
Washed Cotton Twill Low Profile Pro Style Cap
You have to have a hat on your boat. It is ill-advised to spend all day on the water without shading your eyes and skin from the sun. You are going to want one of these practical Low Profile Pro Style Caps in black or khaki.
Bennington Tailgate Cornhole Set
There is one game everyone always wants to play, whether you are camping, boating, or tailgating before a show. Cornhole is a simple beanbag game that will get even your most passive cohorts into super competitive mode. Bring the fun to your next cookout. Bring the Bennington Tailgate Cornhole Set.
Take a look at our catalog to find the right accessories for your Bennington boating lifestyle.