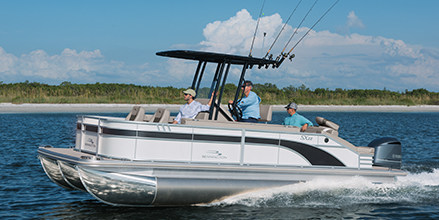 Prepare for Fishing on a Pontoon Boat
Whether you're alone or with friends, nothing beats spending the day fishing. There are many types of boats designed specifically for fishing, but few of them work well for activities that you might enjoy on a pontoon boat, especially entertaining.
Pontoon boats, however, shine as fishing platforms. They're stable, they've got tons of deck and storage space, and they draw little water, so you can edge right up to a shoreline. Properly equipped, a pontoon boat can be the perfect fishing vessel.
These accessories will help you use your pontoon boat successfully as a fishing machine.
Using a livewell with a freshwater pump and aerator can greatly enhance your fishing experience. Keeping your bait fresh means more catches, and keeping your catch alive means you can spend the whole day on the water without having to clean it until you're back on land.
Rod holders are a must-have. There are plenty of options available for mounting to the rails or deck.
Some pontoons that give priority to fishing have an open bow deck with swiveling fishing chairs. These are comfortable for all-day fishing and they keep anglers safely away from the rest of the family and guests. Each to his or her own space.
A trolling motor on a bracket at the bow can give you precise control to ease into your favorite fishing spot.
A fish finder (a specialized sonar device) can make a world of difference in how you fish. Fish finders take a lot of the guesswork out of fishing by allowing you to easily determine fish and school size and location, water temperature, wave speeds, and bait depth.
On a windy day, one anchor might not be sufficient to keep your boat stationary. Anchors at the front and back of your boat will keep you in one place and facing the same direction.
Once you're properly outfitted, two more tips will help you have a better time:
Bring a good supply of old towels. These can be used in many different ways, including cleaning your hands after dealing with bait, and to hold a fish firmly when removing a deep-set hook. It will also help keep your boat from getting covered in blood and slime.
If your pontoon boat has a canopy, lower or remove it before you begin fishing. You'll cast more effectively if you have room to swing your rod.
Once you follow these tips and make the necessary improvements to your pontoon boat, you'll wonder why anyone would want to fish any other way. Yes, pontoon boats are great for entertaining and family fun -- but they're also serious fishing machines with unique advantages over any other type of boat.