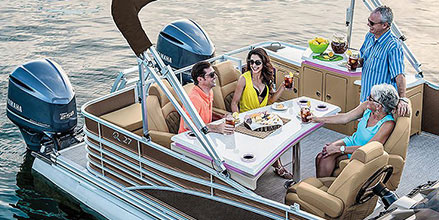 5 Non-Alcoholic Drinks To Enjoy On The Water
Just as pontoon boating goes with fishing and family fun, it also goes with beverages—big time. Whenever you spend a lot of time in the sun, you build up a thirst and need to stay hydrated. While beer and cocktails have their place and time, there are a lot of good reasons to go non-alcoholic.


If you're the captain, you need to stay sober even if your guests are enjoying adult beverages. Non-drinking adults deserve something interesting, beyond the standard can of soda or bottled water. And if the gathering is a celebration of some kind and there are children on board, they should be included too, with kid-friendly drinks that are festive, fancy and out of the ordinary.


If you and your crew are ready to kick back with some refreshing alcohol-free beverages, we've got five great ideas for you.


Pineapple Ginger Sparkler


This sparkling beverage has the spring-like flavor of fresh basil coupled with the spicy touch of ginger. To prepare enough fun for six, you'll need:


4 cups chilled ginger ale
4 cups chilled pineapple juice
fresh ginger, sliced thin
1 orange, sliced thin
1/2 cup de-stemmed basil leaves


Combine the ginger ale and pineapple juice in a 64-ounce pitcher or punch bowl and garnish with ginger and orange slices and a bit of basil.


Margarita Mocktail


For Jimmy Buffett fans, no day in the sun is complete without a margarita. If you're taking the party out on the water, bring along these ingredients for the perfect Margarita Mocktail:


1 oz. limeade concentrate
1 oz. fresh lime juice
2 oz. agave syrup or honey
1/2 oz. grapefruit juice
1/4 teaspoon orange extract
3/4 cup ice
1 tablespoon flake salt
1/2 teaspoon chili powder
limes for garnish


Fire up the blender and add the agave syrup or honey, limeade concentrate, fresh lime juice, grapefruit juice, orange extract and ice. Blend until perfect. Rim the glass with salt and chili powder and pour. We can hear Jimmy singing from here.


Watermelon Lemonade


Watermelon and lemonade put the "fresh" in refreshing in this next non-alcoholic beverage. If there are two flavors more synonymous with summer, we haven't heard of them.


1 watermelon
1 batch lemonade


Add watermelon to blender to extract the juice, then strain the pulp as you pour into the pitcher, filling half full. Fill the second half of the pitcher with lemonade and blend. For an added touch, freeze some cubed pieces of watermelon beforehand and add to the pitcher to keep your beverage cool without watering it down.


Blueberry Moscow Mule Mocktails


The Moscow Mule has become an adult beverage staple, identifiable by the copper cup it's traditionally served in. While the standard mule has a hint of fall spice, this non-alcoholic version is always nice.


1/4 cup fresh blueberries
1/2 lime, juice only
1 teaspoon sugar
9 oz. ginger beer
crushed ice


Place blueberries, lime wedges, and sugar into a large glass and muddle together. Pour the mixture into a copper mug with crushed ice. Add the ginger beer, stir, and serve.


Rhubarb Lemonade


There are some things that will always remind you of home, like the smell of a rhubarb pie or a long day on the water. Luckily, there's a simple way to combine both of these things.


2 stalks rhubarb
1 1/2 cups sugar
5 cups water
1 1/2 lb. strawberries, stemmed
1 cup freshly squeezed lemon juice


Start by bringing the sugar, rhubarb, and water to a boil. Once it's boiling, remove from the heat, add strawberries, and allow to sit for 30 minutes. Strain the mixture through a fine strainer and chill until ready to serve. When serving, pour over ice in glasses or a punch bowl and stir in the fresh lemon juice.


Now that you're ready for a great day of well-hydrated pontoon boating, the only thing left is to find a Bennington pontoon boat at a dealer near you.