End of Summer Barbecue on the Bennington
Is the summer ending where you live? If you're in a place that turns chilly in October, this is the month to extract all the remaining fun from the summer of 2019. That means getting out on the lake for one last epic boating adventure on your Bennington pontoon. Will you invite the whole gang for a final hurrah, or spend a quieter day listening to bird songs with your family? Either way, you will want some great grub to accompany you.
The best September afternoons include a delicious feast, sweet lake air, and a final dip in freshwater. As the sun sets, get cozy under a blanket while you cruise home on your Bennington. It's almost time to say so long to the summer and embrace fall. And if you are lucky enough to live in a place of endless summer, we welcome you to try these barbecue ideas anytime! Cheers to good food and great friends, on the deck of your awesome pontoon!
The Main Dish
Barbecued chicken is a real crowd-pleaser, and this Food Network recipe from Tyler Florence is going to taste so good in the great outdoors. The brown sugar, bacon, and molasses make an incredible sauce, but the secret ingredient here is the brine. Brining poultry makes it super juicy and delicious; everyone will want to know how you did it. The question is, will you tell them?
Of course, there may not be a more quintessential summer supper than burgers cooked on the grill. If you are equipped with the right tools on your decked-out pontoon, this is a great choice. You can sizzle up a batch of juicy burgers, and let your guests top them any way they like. People love customizing their burgers and challenging friends about who has built the ideal one. This burger recipe calls for jalapeños and avocado, as well as pineapple and bacon in the sauce, causing a real blast of flavor. Whichever way you go, sink your teeth into the last taste of summer vacation on your Benny.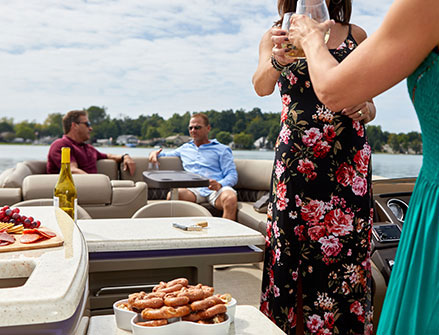 Serve a classic coleslaw, with either the chicken or burgers and everyone, will be satisfied by the creamy-crunchy delicious snap of cabbage, with just a hint of sweetness. The best part: This recipe only improves as it marinates, which makes it a perfect all-day side dish when safely kept in a cooler while you're boating. Savor summer sweetness with this fresh fruit salad that is nicely kicked up with a little brown sugar, vanilla, and lemon zest!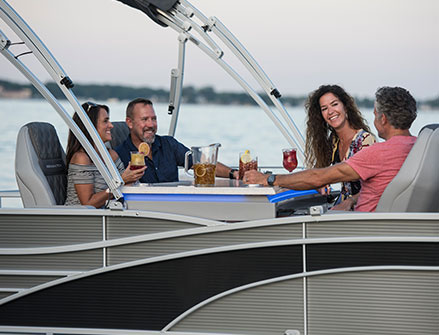 Serve homemade lemonade or Southern sweet tea at your Bennington barbecue, and the memories you make this summer will be most refreshing this winter as you await the next season of pontoon boating.
Find the nearest Bennington dealer and build your own pontoon today!