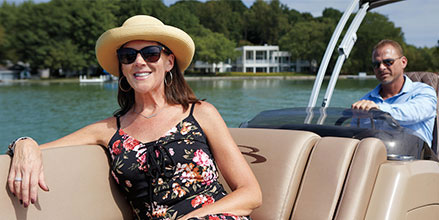 How to Prepare Your Boat for Summer
For most people across the country, boating is a seasonal sport. That means that once the fall and winter months roll around, you must take the time to properly store your boat away for the winter. Luckily, once the weather starts to warm back up in the spring, you can de-winterize your boat and get ready to hit the water once again.
Just like preparing your boat to be stored for the winter, when it comes to de-winterizing your boat, you need to follow a thorough and detailed process. Keep reading for some of our best practices for properly preparing your boat for the spring and summer season.
11 Boating Tips for Bringing Your Pontoon Boat Out of Winter Hibernation
Check Your Boating License and Registration
You won't be able to get out and enjoy your pontoon boat this season if you don't have the proper license and registration. So, be sure to handle these first!
De-Winterize Your Engine
The engine is the heart of your boat and often takes the greatest amount of time to de-winterize. Take the time to change the oil and oil filter.
Get a Tune-Up
A tune-up will allow your mechanic to run a compression test, check your water pump and seals, check the alarms, test the spark plugs, change out the lubricant in the lower unit and perform any other necessary services according to the owner's manual.
Check Water Heater/Thermostat
Water pumps typically have a lifespan of about 2 years or 200 hours. Check that yours isn't running hot, flush the system and replace the antifreeze according to the specifications in your owner's manual.
Check Fluids and Replace Filters
Check and change all other fluids, including the transmission fluid.
Check Battery Strength
Make sure your battery is fully charged, cleaned and topped off with filtered water.
Check Bilge Pump
Verify that your bilge pump is clean and working properly.
Paint Bottom
To prevent corrosion, check the bottom paint and repaint if necessary.
Clean and Wax Hull
Clean your pontoons boat's exterior using a marine-safe cleaner. Finish with a fresh coat of wax.
Clean Interior
Check your seats, covers, canvas items and vinyl for tears, dirt and mildew. Make necessary repairs and only clean with dealer recommended cleaners.
Check Equipment Inventory
Prepare for spring boating by ensuring you have necessary items and proper safety equipment such as life jackets, fire extinguishers, a paddle, sunscreen, and distress signals.
Get Ready for Spring and Summer Boating with Bennington
Need more tips or ready to shop for a Bennington of your own? Head over to your local dealer today.