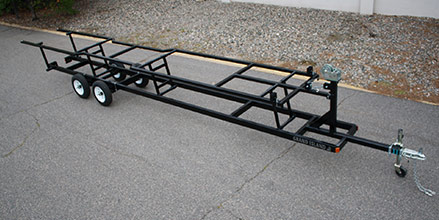 Choosing the Right Pontoon Trailer
.
If you plan on traveling with your pontoon boat as opposed to keeping it at one single body of water, you'll need to look into purchasing a boat trailer to tow your pontoon around. When it comes to picking out a proper trailer for your specific boat, it's always important to speak to the person or dealer that you purchased the boat from. They're going to make sure that you're equipped with exactly what you're looking for.
However, if you're looking to brush up on your knowledge before walking into the dealer, here are some tips for finding the right trailer for your boat.
Types of Pontoon Trailers
A trailer is necessary to factor into your pontoon boat costs. The size of your boat will determine the size of your vehicle and trailer needed to tow it. Trailers are divided into four classes based on the Gross Vehicle Weight Rating. Knowing this can help you determine what type of pontoon trailer is appropriate to support your boat.
Scissor pontoon trailers and bunk boat trailers each come with a different set of pros and cons. Bunk boat trailers are best for tritoons and slide under the entire boat, while scissor pontoon trailers slide between the pontoon and boat tubes, making launching your boat simple.
Scissor Pontoon Trailers
This style of trailer slides in between the pontoon boat tubes or logs, making it the quickest and easiest style to use when retrieving a boat from even the shallowest waters. While the ease of use when pulling or launching your boat is nice, scissor pontoon trailers may rock when used to pull a boat on the highway as the logs rest over the sides of the trailer. Consider your travel plans as well as the size of your boat. If you're looking for a tritoon trailer, a scissor trailer would not be your best option due to the third, middle tube.
Bunk Boat Trailers
Bunk style trailers, unlike the scissor style, slide under the entire boat. The logs are supported by resting directly on the surface of the trailer, above the wheels. This style of trailer requires additional maneuvering when retrieving or launching your boat, but may be more suitable for longer drives. Bunk boat trailers are also the best option for tritoon boats as the flat surface can easily support all three of the boat's tubes.
In addition to the practical use of your pontoon boat trailer, you should take into consideration the storage of your trailer when the boat is in the water and when the boat is loaded on the trailer. Bunk style trailers are wider than scissor style, taking up more space. Also, as boats rest on the surface of the bunk style trailer, you will need more vertical space for storing the boat on the trailer.
Important Boat Trailer Considerations
As you take into account factors like your vehicle's towing capacity, there are a few other considerations to keep in mind.
It's smart to avoid carpeted bunks on lifts or trailers. If these get drenched with salt water, they can corrode raw aluminum pontoon tubes.
If you'll be storing your boat on its trailer, don't forget to account for how much space the trailer will take up. Always prepare your boat before putting it in storage and keep your trailer as well maintained as you keep your boat.
You also need to be aware of local regulations. Before you use your trailer, contact your state's Department of Motor Vehicles to learn about trailering regulations for your state and read your Bennington Pontoon Owner's Manual to learn more.
Vehicle Towing Capacity
To find out your vehicle towing capacity, or the amount of weight your vehicle can safely pull, start by looking at your Vehicle Identification Number. Go to the manufacturer's website for your vehicle, search for towing capacity, and type in your VIN.
Don't forget about the hitch, too. The vehicle towing hitch also must be able to safely handle the trailering load and tongue weight of the trailer. Hitches are divided into classes that specify the trailer's gross trailer weight and maximum tongue weight for each class. Don't use a hitch that isn't rated to pull the maximum weight of the trailering load or that isn't rated for the maximum tongue weight that the trailering load applies.
Boat Trailer Weight
Along with your vehicle, your trailer will need to have a high enough weight capacity.
Your boat trailer weight — including boat weight and tongue weight — should be top of mind when buying a trailer. Now that you know your vehicle can tow your pontoon, research the maximum weight and the maximum tongue weight of your trailer.
All trailers have to display a Gross Vehicle Weight Rating to show how much the load-carrying capacity is plus the weight of the trailer. The total weight of the boat — including the weight of a full tank of gas, gear, and anything else on board — can't ever be greater than the GVWR.
To learn more about finding the proper trailer for your Bennington Pontoon Boat model, contact a local Bennington Pontoon Boat dealer.