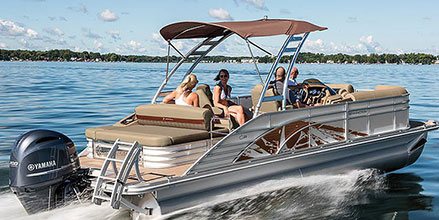 Cleaning Your Bennington's Bimini Top
A Bimini top provides shelter from rain or sun and can be an ideal accessory to make any pontoon boat more enjoyable. Keep in mind a Bimini can get dirty from regular use and sometimes from spills. To keep them looking great, it's important to have a regular cleaning schedule paired with a professional cleaning every two to three years.


Regular Cleaning


You can do light, regular cleaning on your Bimini top while it's still on the boat. Brush off any loose dirt and then hose it down to remove any remaining loose debris. Have a prepared solution of water and mild soap (dishwashing liquid or Woolite work well). Use this with a soft bristle brush to clean. Let the solution soak into the fabric for a few minutes, then scrub, and rinse thoroughly with the hose. You can let the top air-dry in the sun.


More Intense Cleaning


Sometimes a light cleaning is not enough. If you have tough grease or other stains or if you have developed mildew due to improper storage or foreign substances on the fabric, you may need to go a few steps further.


For heavy cleaning, make a cleaning solution of one cup of bleach, 1/4 cup of mild soap, and a gallon of water. Work this into the fabric, concentrating on the stains or areas of mildew, and let it soak for 15 minutes. Blot the stain with a clean towel or sponge, then rinse with a hose until the residue is removed.


Storage


Proper care and storage are critical to Bimini maintenance.


Fabric takes a beating from the elements. To prolong its life, cover the Bimini with its storage boot after every outing. If a boot was not included when you purchased the Bimini, you can buy one from most boating equipment suppliers. If you won't be using your boat for an extended period, consider removing the fabric and storing it at home in a dry place out of the sun.


A Bimini should never be left in the raised position while you are towing the boat. This can damage the fabric or even tear the Bimini frame off the boat. Before towing, lower the Bimini and secure it in its boot or with straps or rope.


Cleaning and storing your Bimini top correctly will prolong its life and ensure that you can enjoy its shade and protection from the elements for years to come.


You can order a color-coordinated Bimini top with most Bennington pontoon boats. Then find a dealer near you.