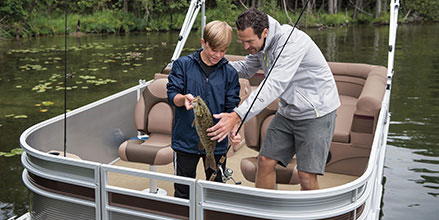 Five Tips for Teaching Kids to Fish
Fishing is one of the greatest pastimes to share with your loved ones. Getting them interested in fishing at an early age can help to teach them valuable life lessons. Whether you see yourself as an expert angler or you're a bit of a novice yourself, taking the time to teach your kids how to fish can be a fun family affair.
Read these five tips for teaching kids to fish, then hit the water in your new Bennington pontoon boat.
Make Sure You're Legal
Teaching your kids about responsibility is important, and you should always fish with a proper license. Before you even invest in a new rod or decide to head out on the water, check the local regulations and fishing requirements where you live.
Get the Right Gear
Once you've settled on the perfect location, you need to invest in the right gear for your kids. Look for a pole that will be comfortable and inexpensive to replace. For beginners, simpler is often better.
Grab Your Bait
While you may be tempted to start your kids off with some fancy bait, worms are often the best way to avoid spending too much money. Plus, in some cases, there really is nothing better to catch a fish with than your average garden worm.
Action is Everything
Kids want action when they're out fishing, so it's important to keep them engaged until they are old enough to exercise more patience. Start by teaching them how to hold their rod, how to cast and when to start reeling in. And if the fish aren't biting, keep your boat moving.
Safety First
If your children aren't old enough or skilled enough to tie their own hooks, let them practice tying knots on something less dangerous. You can handle the intricate details while they get a feel for their rod and the water. And if they start to get bored, keep some backup entertainment options handy so that they don't wander off and get hurt.
Set Out on the Water with Bennington Pontoon Boats
There are few things as special as when your children catch their very first fish. Help them experience that magical feeling safely and in style when you invest in one of our luxury performance pontoon boats. Ready to find the pontoon boat of your dreams? Find your local Bennington dealer today to get started!