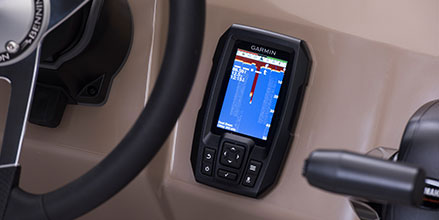 Five Gadgets You Don't Want to Leave the Dock Without
We've got the line on five gadgets boaters can bring with them to enhance the boating experience and the fun. Christmas is closer than you think, and these are great gift options for the boater on your list.
Fish Finder
This is the perfect gadget for the avid fisherman. Why spend hours looking for that elusive school of bass? The technology exists for you to hone in on where the fish are congregating. A fish finder is an instrument used to locate fish underwater by detecting reflected pulses of sound energy, as in sonar. This is cool tech for any angler worth his salt.
Waterproof Camera and Tripod
Capture memories on the water with a waterproof camera. A tripod will allow you to set up and snap the perfect shot. There is so much magic that happens when you are enjoying life on your pontoon. Keep the memories forever and share the moments with your friends.
Spill-Proof Dog Dish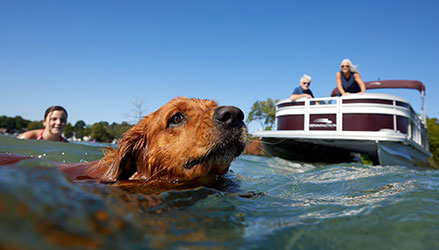 What does your ol' pup love more than speeding across the water with you on your Bennington pontoon? You love spending time with your furry best friend, swimming and fishing on the lake, but don't leave the dock without a spill-proof dog dish for your canine companion. Dogs need to drink a lot of water to keep cool since they don't perspire as humans do. You don't want them to be thirsty or feel overheated, and you don't want to have to turn around on a perfectly gorgeous day of boating. A spill-proof bowl keeps your dog hydrated and happy.
Emergency Kit
Part of what is exciting about boating is that anything can happen. Some surprising moments are positive, such as spotting a rainbow or meteor shower, while others can throw you for a loop. Don't let an unexpected incident upset your entire day on the water. A well-packed emergency kit includes some first-aid essentials, such as bandages and antibiotic ointment, a whistle to be heard across great distances, a flare in case you get stranded in the dark, a warm sweater in case someone ends up overboard and the night air is setting in, and a knife, which could, quite literally, save your life.
Waterproof Phone Case
Whether you are trying to photograph that perfect summer sunset from the back of your pontoon or are using your phone's flashlight to investigate something in the water, if your hand is wet, your phone can easily slip and fall into the water. Even a big splash from your cannonballing child or the shower that inevitably accompanies a wet dog can soak a phone innocently resting on a previously dry seat. We all need to have our phones when we're out boating. How did we ever get along without it for safety, convenience, and comfort? It is the ultimate boater's accessory. However, it's no good to us when it gets wet. Keep it safe and dry with a sturdy waterproof phone case.
Which of these gadgets do you think you'll use most on your boat? Find a Bennington dealer today, to begin building your perfect pontoon.