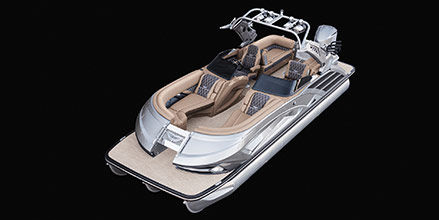 Upgrading Your Pontoon Boat in the Off-Season
One of the many perks of owning a pontoon boat is the number of features, add-ons and upgrades available to customize your boating experience. No two boat owners want exactly the same set up and pontoon boats are a great canvas to build on.
It can be difficult locating exactly the right components for your boat during the spring and summer seasons, as demand for these features tends to be much higher. The off-season is a great time to consider upgrading your pontoon boat as many items are restocked and become available.
Here are some upgrades to consider for your boat or as a gift for a boat owner this fall and winter.
Sound system or speakers
Summer is a popular time for upgrading sound systems and speakers. Often boat owners do not think about this feature until the first time they start their boat up for the season and that can make it difficult to get the model you're looking for. Contact your dealer in the fall to give yourself plenty of time to get your system ready for the following year.
Grills and coolers
Food and beverage related features are also extremely popular in the summertime. Take some time to consider what you plan on doing with your boat the following year and explore these options with your local dealer. Remember to plan for the size of the group you expect to have on board, you don't want to cook burgers for 12 people on a 2-burger grill.
Water sports equipment
Not only will you see great deals on towable tubes, water skis, wakeboards and other fun toys in the off-season, but these items will be easy to store and a pleasant surprise when you open them for the first time the following year or as a Christmas present.
Your local Bennington Pontoon Boat dealer is a great source for information on your specific model and what features are recommended. Contact your local dealer today.