Deck Boat vs Pontoon: Which to Buy?
When you buy a boat, you want to make sure you're completely satisfied with your investment. The best way to make an informed decision is to learn about the differences between the boat options available. Learning how deck boats differ from pontoon boats can help you decide which may be right for you.
What is a Pontoon Boat
Pontoon boats are versatile boats with two tubes beneath the deck that help keep them afloat. Pontoon boats can match any lifestyle, whether you prefer cruises on the water, doing watersports, fishing, entertaining, or a combination of activities.
Types of Pontoon Boats
There are a variety of pontoon boats to match different lifestyles. Various pontoon layouts are made with fishing, watersports, cruising, and more in mind.
Pontoon boats are highly customizable. For example, you can get a pontoon boat with dual engines for extra power or you could opt for a tritoon boat, which differs from a pontoon because it has three hulls. The third hull helps the boat remain stable and allows for quicker speeds.
Pontoon Boat Sizes
Bennington pontoon boat sizes range from 17 to 28 feet. The surface area of pontoons can hold many people, but pontoon boat capacity varies on the size.
Up to about eight people can fit on a 17- to 19-foot boat and around 13 people can fit on a 20 to 22-foot boat. If you really want to get the party started by entertaining a group of 15 people, a 23 to 28-foot boat will be best.
Pontoon Boat Activities & Uses
Pontoon boats work well for activities like fishing, simple cruising on the water, and watersports like waterskiing, tubing, and wakeboarding. Pontoon boats are also great for entertaining and enjoying time with friends and family.
Pontoon Boat Engines
Bennington pontoon boats have engines with anywhere from 90 horsepower to up to 900 horsepower on Bennington's more luxury lines with twin engines.
To choose the right outboard motor for your pontoon boat, consider what you'll be using your boat for and the size of the boat. Tritoons can handle the most horsepower since their three tubes allow for weight to be distributed evenly.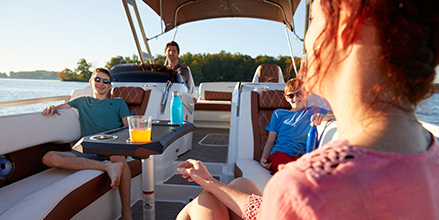 What is a Deck Boat
Deck boats are also versatile boats, but the main difference between pontoon boats and deck boats is the hull shape.
Unlike pontoon boats, most deck boats have a V-shaped hull. Traditional deck boats are made of fiberglass, but many newer models are made with aluminum metals. Like pontoons, there are different types of deck boats made to best align with the user's lifestyle.
Types of Deck Boats
Deck boats come in different layouts and can be customizable. Deck boats can come equipped with spacious decks for entertaining. Some deck boats are built with fishing in mind and feature dedicated fishing decks.
Deck Boat Sizes
Deck boat sizing doesn't differ dramatically from pontoon boat sizes. Deck boats that are more than 25 feet long can easily hold up to 12 people. Deck boats can hold many people, but because of their V-shaped hull, deck boats typically have less room to move around compared to pontoon boats.
Deck Boat Activities & Uses
Due to the V-shaped hull on deck boats, they're able to slice through the water at high speeds, making them great for cruising and watersports. However, they are a bit rougher on choppy waves compared to pontoons. Deck boats also sit lower on the water than pontoons, so you may get sprayed with some water.
If you want to fish and entertain, the layout of pontoon boats will be more roomy and suitable. Pontoons lay flat on the water, which provides a more stable platform.
Deck Boat Engines
Deck boats can be equipped with inboard/outboard motors or outboard motors. Inboard/outboard motors are generally more powerful and deck boats typically get up to speeds of between 50 and 70 miles per hour.
Purchasing a Pontoon vs Deck Boat
When deciding whether to buy a pontoon or a deck boat, consider your lifestyle, preferences, and budget.
Cost of Pontoon Boats
Pontoons are highly customizable boats that can fit various budgets. Bennington's most affordable, entry-level, option, the S Series, starts at about $21,000. Boats in Bennington's luxury flagship Q Series can cost more than $200,000.
To determine the cost of a pontoon boat, use our payment calculator to find your estimated payments and talk to your local Bennington dealer.
Cost of Deck Boats
Like pontoon boats, the cost of deck boats varies widely. Small deck boats that are around 16 feet can cost around $20,000, but larger models can cost $100,000 or more.
When figuring out the cost of any boat, don't forget to factor in the maintenance and storage costs to your budget.