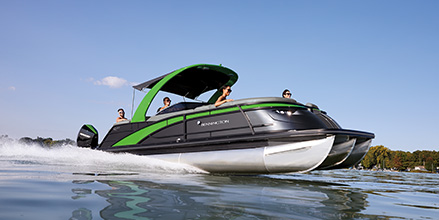 Tritoon Vs. Pontoon: How Are They Different?
Deciding you want a boat to take your friends and family out on the water is easy. Determining what boat is best for you — a pontoon or a tritoon — is tougher.
Luckily, understanding the differences between a pontoon and a tritoon is easier than you think. Once you know the distinctions, your choice will come down to your personal preferences and lifestyle.
What is a Tritoon Boat?
A tritoon boat is a pontoon boat with three tubes instead of two. It sounds simple enough, but the third tube makes a big difference in the performance and ideal use for the boat. Here's why you may consider a tritoon over a pontoon and how the two compare.
Triple Pontoon Boats
You've likely heard of tritoons and tri-hull pontoon boats. What you may not have realized is that they're actually the same thing. While a pontoon boat has two tubes beneath the deck, a tritoon boat has three. This third hull helps keep the boat stable, allows for quicker speeds, and makes the boat better equipped for choppy water.
Is a Tritoon Better than a Pontoon?
So, which is better? Neither. Since pontoons and tritoons have several differences, it just depends on what you're looking for.
Consider what kind of activities you'll be doing on the water, what your budget is, what size and layout you'd like your boat to have, and the location of where you'll be boating. If you plan to boat on rough water, consider a tritoon. Tritoons are built to withstand rough waves and work better for watersports.
Difference Between Pontoon and Tritoon
Not everyone prefers a tritoon over a pontoon and vice versa. It all comes down to your lifestyle. Do you dream of easy cruising, picture yourself waterskiing with friends, or just want to leisurely fish? This and more all factor into which boat you'll want.
Tritoon Speed and Horsepower
If you're someone who believes the faster the better, you'll love a tritoon. Since tritoons have the ability to distribute weight evenly due to their three tubes, they can handle more horsepower.
Bennington boats have engines that range from 90 horsepower on S Series models to up to 900 horsepower with twin engines on Bennington's more luxury lines, such as the Q Series, which includes tritoons.
Bennington offers a wide variety of performance packages, engine choices, and high-performance features to kick things up another notch.
Often, state and local boating authorities enforce speed limits, but regulations can vary from state to state. Contact your local and state boating authorities to be sure you're operating at a safe speed.
Tritoon Weight and Capacity
The exact capacity of a tritoon boat depends on the size, but tritoons are able to accommodate more people due to the third toon.
A 23- to 28-foot boat will be able to carry up to 15 people, and Bennington's 30-foot boats can hold up to 21 people. It's important to make sure people are spread out on your boat, not crowded to one side or one area. The capacity plate on your boat should be easy to find, but also talk to your dealer about the carrying capacity of the boat.
The actual size and weight of the boat itself is also important when considering how you'll store your boat or transfer it to and from the water. With only two tubes, pontoons are lighter, making them easier to attach to a trailer. With a tritoon, the added weight means you need a vehicle that can handle towing it.
Tritoon vs Pontoon on Rough Water
Pontoon boats are designed for casual, calm cruising on sheltered water. Waves bigger than two feet can be dangerous on a pontoon boat.
When it comes to rough water, the more hulls the better. Tritoons can handle rough, choppy water better than pontoons because the third toon on a tritoon helps stabilize the boat and allows for more friction between the water and the bottom of your boat. If you'll be on rough water, open water, or docking in choppy waters, a tritoon is a better option for you.
Which Should You Buy: Tritoon vs Pontoon?
When it's time to decide, it comes down to the size, use, and price that fits your needs and budget.
Boat Size
If you want a bigger, faster boat, opt for a triple-tube pontoon boat. On average, tritoon boats are between 22- and 30-feet long and can carry 10 to 21 people.
Remember that because tritoons are bigger, you'll also need more storage space when it's out of the water.
Boat Use
Basic cruising, relaxing on the water, and fishing are perfect activities for a pontoon boat.
Since tritoons are stable and perform well, they're a great choice for watersports like tubing, waterskiing, or wakeboarding. Tritoons are better in rough waves, so, take into consideration what kind of body of water you'll be boating on.
Boat Price
The third hull on a boat makes a difference in price. Pontoons tend to be a more affordable boat option. Overall, Bennington pontoon boats range from about $17,000 for the SV Line to more than $200,000 for boats in the Q Series.
Bennington pontoons and tritoons come at a variety of price points to fit your budget. You can explore features, pricing, layouts, materials, and more online to build your dream boat and find out its cost.
Series
Pontoon
Tritoon

Series

Q Series

Pontoon

X

Tritoon

X

Series

R Series

Pontoon

X

Tritoon

X

Series

Pontoon

X

Tritoon

X

Series

S Series

Pontoon

X

Tritoon

X