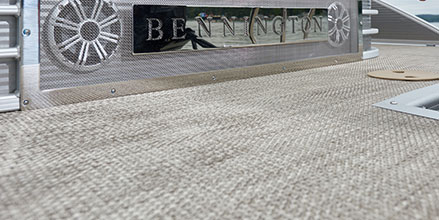 Installing new pontoon boat floor covering
If you're a Bennington Pontoon Boat owner, you realize that your boat is going to get a lot of miles in its lifetime. Those miles equate to a lot of great memories, and of course wear and tear on your pontoon boat. No need to fear, our Bennington Pontoon Boat dealers know exactly how to repair, renovate and upgrade your boat to keep it looking like it did the day you took it home.


Depending on the style of flooring you have chosen for your pontoon boat, as well as the amount and type of use it receives, you may be looking to get your boat flooring repaired or replaced. With wet feet on deck, water splashing and boating gear taking a toll on the flooring material, this is to be expected over time.


Where do you begin when installing a new pontoon boat floor covering?


First, contact your local Bennington Pontoon Boat dealer. They will first identify if your flooring can simply be replaced or if it needs to be redecked. By examining the deck for weak areas, the specialist will get an understanding for the condition of the deck.


If you have carpet flooring, the specialist will begin removing the material if the deck is in good condition. The process involves pulling the carpet up in a corner and working your way across the deck, cutting the carpet and removing in strips if needed. Any leftover adhesive will be removed to avoid lumps under the new floor.


Once the deck has been inspected a final time, the specialist will roll out the new flooring material and begin putting the deck back together.


A newly repaired or replaced floor in an older or frequently used pontoon boat can help extend the life of the boat, increase or retain the boat's value and provide for many more years of use.


Contact a local Bennington dealer to learn more about finding the right pontoon boat for you. Learn more about Bennington Pontoon Boats at https://www.benningtonmarine.com