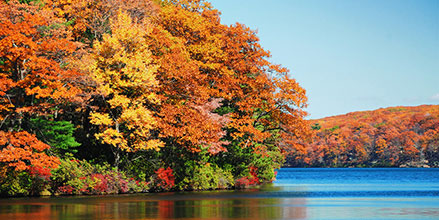 Fall Boating Tips
Now that autumn is in full gear, the time to fit in a few last pontoon boat trips is winding down. In the northern parts of the US and Canada, the leaves have already begun turning and the temperatures are dropping lower and lower each day. Soon, the lakes and ponds we love to soak in the sun on will be iced over and our Benningtons will be covered and stored away for next year; but not yet! There are still a few good weeks of boating left for our friends to the north and we're here to help you get the most out of them.
Here are three tips for maximizing the fall season in your pontoon:
1) Pack accordingly
Sure, you've spent the last few months enjoying life on the lake without a care in the world. But, as the air gets crisp and the water temperature drops, it's always better to plan ahead in case something doesn't go your way. Bring plenty of warm clothes and blankets. Unlike the warm, never-ending sunsets of summer, the sun doesn't waste any time setting in the fall; bringing behind it frigid temps and nippy breezes. Be sure you've packed extra gas, and even a backup motor depending on how remote you plan to be. It can take a while to be rescued in the fall as there are fewer boaters to notice that you need help.
2) Keep your pontoon free of leaves and debris
Fall foliage is a beautiful thing. Those bright autumn leaves that cover everything in sight with a blanket of red and orange are often a headache for boat owners. As leaves pile up in and on your boat, they not only make a mess, but they can also promote mold, mildew, and water pooling so be sure to keep your boat covered when on land.
3) Know when to call it a year
It's important to clean, seal, and properly store your boat before winter arrives. In much of the country, snow can begin to fly as early as mid-fall, and this can spell disaster for the unprepared boater. Take the time to thoroughly clean the inside and outside of your pontoon. This is a good opportunity to inspect for dents, dings, scratches or cracks that may need to be addressed before the following season. Be sure to check and flush fluids and cover or shrink wrap your pontoon to keep debris and wildlife out. Finally, store your boat in a safe place where it will be protected against falling branches, trees, and damage from storms.
Now that you're ready for an autumn pontoon boating adventure, the only thing left to do is to find your next Bennington pontoon boat at a dealer near you. Start designing your dream Bennington pontoon boat today with our online design center where you can customize every feature for the perfect pontoon-boating experience.