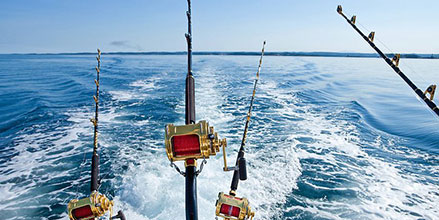 Saltwater Fishing Tips for Pontoon Boaters
A pontoon boat can be an excellent platform for saltwater fishing—whether the fish are biting or not. With their wide stance, they're stable in moderate sea conditions. That width also means there's plenty of room for playing fish, storing and handling gear, and relaxing in comfort when fishing isn't the highest item on the agenda. The shallow draft of a pontoon boat allows you to fish close to shore, to pass over shallow bars, and to sneak into tidal inlets that deep-V fishing machines can't reach.


Bennington pontoon boats feature many angler-friendly touches to make the experience even more convenient and comfortable. Models are available with a bow deck, fishing chairs, and secure rod storage. Rails all around provide secure mounting locations for rod holders. And a sink for washing off and cleaning up is handy for any angler.


Here are some fishing tips that almost every saltwater angler or pontoon boater can use:


Tackle and Gear


Saltwater fishing can easily push the limits of lighter gear. A 7- to 12-foot heavy-action rod is best for most species, with up to a 20 pound test line and a 40 pound leader line. No reel designed for fresh water will survive in a saltwater environment. Aside from the fact they they're just too small, they'll corrode before you get a chance to use them a second time. Jigs and metal spoons are usually among the most productive choices for lures, although live bait, especially shrimp, are frequently your best bet. Think large hooks and heavy sinkers of 3 oz. to 8 oz.


Secure rod holders are a must, not only because the motion of the boat is likely to be greater than on fresh water, but also because the game are likely to be larger and less forgiving of a rod casually set down on the deck.


Fish Structure, and be Prepared to Anchor


Certain types of fishing spots will yield the best results. Troughs, jetties and breakwaters all offer prime opportunities for schools of fish, including bluefish, pompano, flounder and sea trout. In order to fish these areas, you're going to have to anchor, but if you're only used to anchoring in lakes, be prepared for currents: you'll need heavier ground tackle (anchors and anchor rode). If you don't have experience handling heavier anchor gear, read up on it before your first saltwater outing. Getting "the hook" to set securely properly requires skill and knowledge, as does breaking it loose from the bottom when you're ready to leave.


Where They're Biting


If you are having trouble locating fish away from the shore or "structure," look to the sky. Birds are an excellent indicator of where schools of baitfish are congregating. And where baitfish congregate, predators usually aren't far behind. If you see a shoal of baitfish splashing, get over there quickly and drop a hook in the middle of the activity, because something big is biting them.


Pontoon boats are excellent platforms for saltwater fishing parties of all levels and ambitions. Learn more about Bennington pontoon boats and contact your nearest dealer to get in on the excitement