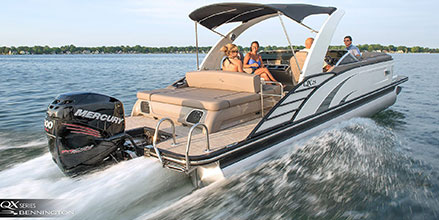 More on Boating Safety
You're ready to start the engine and head out for a fun day of pontoon boating. But wait! Haven't you forgotten something?
Never go boating without considering the safety of those aboard. We've addressed boating safety before, but it's a broad topic that can't be covered in one short article -- and it needs to be repeated in any case. Everyone can use a reminder now and then.
Here are eight boating safety rules that all boat drivers and owners should follow:
1. Be Aware of the Weather
Check the local weather forecast before setting out. If you notice threatening weather like dark clouds on the horizon, play it safe and wait for another day.
2. Don't Drink and Drive
Driving a boat while impaired by drugs or alcohol can be just as deadly as driving a car drunk or high. The legal consequences are usually similar too. In most places, you can be arrested and even jailed for BUI (boating under the influence).
3. Drive Cautiously
Driving a fast boat can be a lot of fun, and boating gives you the opportunity to enjoy unrestrained speed more often than driving a car does. Enjoy it, but everything has a time and a place. Much of the time, you need to exhibit common sense, common courtesy, and due caution, and that often means slowing down, even to a walking pace on occasion.
Other boats aren't the only hazard: not knowing where hidden rocks may lie may necessitate going slow enough to see and avoid them. Go slow also in areas where people may be swimming or fishing, and along shorelines that might be subject to erosion. If the water's rough, slow down for the safety of those on board.
4. Designate an Assistant Skipper
If possible, a passenger should be familiar with your boat and capable of taking over if something happens to the driver.
5. Have a Float Plan
Before you leave, tell a friend, a family member, or a marina staffer where you are going and how long you expect to be away from the dock. Better yet, write down the details of your boat, your party, and your plans, and leave a copy with a responsible individual.
6. Life jackets
You and every passenger on board should have their own life jacket. Before leaving the dock, instruct everyone how to wear it properly, and make sure they fit. Although adults are not required to wear their life jacket while on board, children are: they should have their jackets on from the moment you leave the dock until they get off the boat -- or even off the dock, if they're not swimmers.
7. Safety Equipment
Every boat should be equipped with a fire extinguisher, a throwable flotation device, a first-kit, extra water, a communication device (e.g., VHS radio), ground tackle (i.e., anchor and line), a visual distress signal (e.g., flares), a sound-producing device (bell, horn or whistle), and navigation lights.
8. Boating Instructions
All boaters, beginning and experienced, need know the basic rules of boating safety. Courses are available online and through organizations like the US Power Squadrons.
Please boat safely. When you're ready to do it on a new Bennington pontoon boat, find a dealer near you.