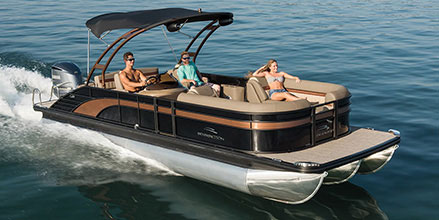 Meet the 2019 Bennington G Series Pontoon Boat
We're taking performance boating to new heights with the 2019 Bennington G Series pontoon boat. This sleek, stylish and powerful high-performance boat is the perfect blend of luxury and comfort. It's great for everyone from the casual weekend boater to the true enthusiasts. Read on to learn more about this luxury pontoon boat and how you can check one out at a dealer near you.
The 2019 G Series Bennington Pontoon Boat
At Bennington, we understand that the modern boater expects more out of their pontoon boat than ever before. A luxury pontoon boat should not only look great out on the water, but it should also be comfortable enough to be enjoyed by family and friends. The 2019 G Series lives up to these expectations and more! With our Online Boat Builder, you can design your boat from top to bottom for a price that you can afford – without sacrificing quality.
Some of our favorite design options include:
A selection of models ranging from 18' to 25'
A wide range of floor plans (bar, cruise, fishing, swingback, fastback, etc.)
Customizable arches
Upgraded performance packages
Comfort seating
Elevated helms
A variety of interior and exterior trim options
And much more!
Whether you plan on dedicating your new luxury pontoon boat to becoming the fishing vessel of your dreams or you're interested in being the best host on the water for every occasion, we know that customization is key.
Design Your 2019 G Series Today
Ready to take to the water in the pontoon boat of your dreams? With the 2019 G Series, the sky is the limit when it comes to performance, style and high-quality materials. Whether you're new to boating or you're finally ready to upgrade to a high-performance pontoon boat, at Bennington, we've got you covered. Check out our many customization options today and get ready to open up a whole new world of design possibilities. Have questions about the design process? Be sure to contact your local dealer today.