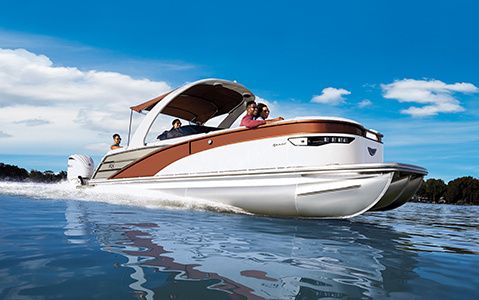 High-performance Features
Any pontoon can float. See what makes Bennington fly.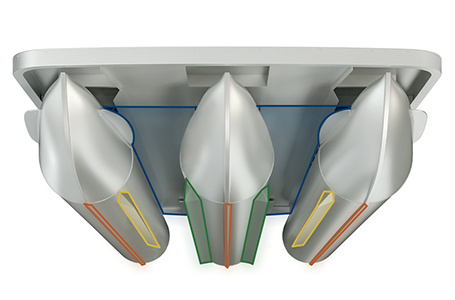 The ESP-3+ running surface is engineered to provide peak performance and ride quality for 10-foot wide-beam boats. This fully integrated platform boasts triple 32" wide .125" gauge aluminum elliptical tubes. Each tube is internally reinforced with stringers and bulkheads. Sealed versions of our strakes and foils, along with a full-length Wavetamer™ are standard. Bennington's patented elliptical tubes maximize buoyancy and stability, improving overall performance.
Single engine models are rated for up to 600 hp, with twin-engine configurations boosting a maximum of 900 hp.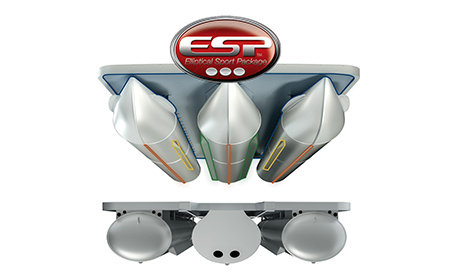 Bennington's legendary Elliptical Sport Package offers top-of-the-line performance and comfort. ESP offers best-in-class stability, maneuverability and maximizes water displacement with quick planing and handling characteristics that rival and often outperform fiberglass sport boats. It includes two 25" diameter outer pontoons with performance foils, splash fins, and .100 gauge aluminum, Wavetamer™, and our patented 32" elliptical center pontoon with lifting strakes. Engineered for higher horsepower applications and rated up to 450 hp, ESP is optional on select outboard models and standard on 8.5' wide twin-engine & I/O models For rougher conditions, upgrade to ESP+ with thicker .125" gauge tubes*. Power steering and center fuel tanks are recommended upgrades for most configurations.
*ESP+ Is Standard On 8.5' Standard-Beam Twin-Engine Models & Includes .125 Gauge Tubes, Sealed Strakes, Foils & Full-Length Wavetamer™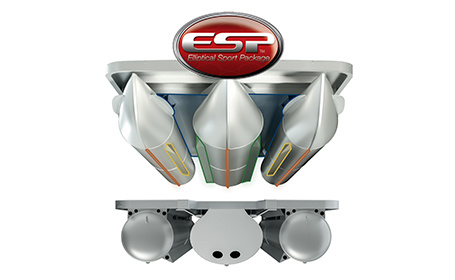 SPORTS PERFORMANCE SYSTEM
The Sports Performance System (SPS) offers handling and performance characteristics similar to ESP in a lighter, more affordable package. SPS is designed for 4 cylinder engines 200 hp or less (SPS-23 115 hp or less). The package includes 3 full-length 25" diameter (23" on SPS-23) pontoons, lifting strakes on the center pontoon, performance foils on the inside of the outer pontoons, solid round keels, under deck wave shield, SeaStar® hydraulic steering, and a 32-gallon transom fuel tank on select models. SPS outer tubes use .080 thick aluminum, and the center is a combination of .080/.100. SPS+ is for engines over 200hp with heavier duty construction. Upgrades include a composite transom, additional brackets, internal bracing, weld spacing, and an aluminum thickness of .100 throughout.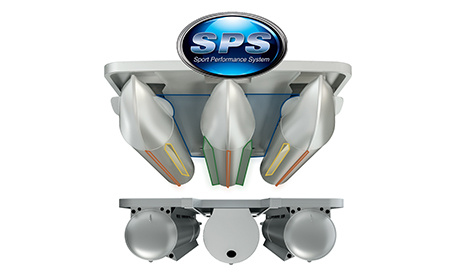 The Express Tube Package offers increased bow lift for lighter, lower horsepower engines. The package includes a modified center tube with lifting strakes and a modified wave shield. Add SeaStar® hydraulic steering for engines greater than 115 hp (25" tubes required).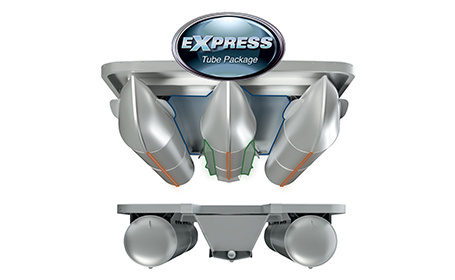 32" TWIN ELLIPTICAL PACKAGE
Bennington's exclusive Elliptical Pontoons features solid round keels and offers incredible two-tube performance. Each .100 gauge elliptical pontoon adds over 1,000 lbs. of additional buoyancy, allowing the boat to sit higher and run faster. These pontoons increase stability both fore and aft as well as side to side. Add lifting strakes and performance foils for even faster acceleration, top speed, and improved stability.
Freshwater and Saltwater packages are available, and both include an underdeck wave shield. The Saltwater package adds saltwater anodes and sealed lifting strakes/performance foils.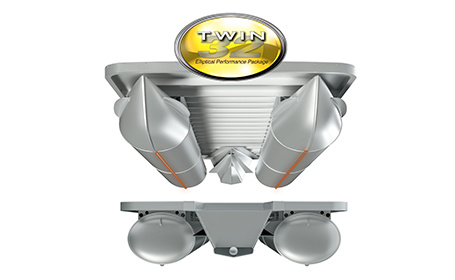 ---
Helps when navigating shallow waters by riding higher in the water.
Reinforced guides placed at the bottom of the tube to protect it in shallow water and improve tracking while underway.
Similar to a wing of a plane, these are placed on the bottom side of the tubes to provide hydrodynamic lift. Improved acceleration, top speed, and stability are added benefits. The foils included on the SPS, ESP, ESP-3, & V-Hull™ packages will dramatically increase the boat's turning performance, especially during heavy banking.
These strakes add lift, decrease splashing, and increase top speed by as much as 4.8 miles per hour, depending on engine selection. For optimum performance, upswept lifting strakes are recommended for engines rated 115hp or greater and for boats exceeding 30 mph. Lifting strakes are recommended with twin elliptical pontoons with greater than 90 hp.
SEASTAR® HYDRAULIC STEERING
Eases steering effort with higher horsepower engines. Expect two-handed handling in hard turns. Recommended for engines rated 115 hp or engines with 4 cylinders or less.
POWER-ASSIST HYDRAULIC STEERING
Powered by an electronically controlled hydraulic or electric pump connected to the SeaStar® system. The electric pump "does the work for you," so the driver can expect incredible handling and turning with little effort. Recommended for engines rated 150 hp or greater.
Also known as underdeck wave shield, deflects water from the bottom of the deck, which reduces "surging" and enhances the soft, quiet ride in rough water while increasing top speed. Check with your local dealer for current engine hp certifications for specific models and configurations.
* Illustrations and descriptions depict a typical build. Configurations will vary by specific model, length, and options.