Meet the 2020 Bennington G Series Pontoon Boat
Are you in the market for a pontoon boat? It can hearten you on long, dark January evenings to look forward to summer. Use our design center to put together your perfect Bennington pontoon boat while imagining yourself, family and friends tooling around the lake on long, hot, seemingly endless summer days. We'd like to introduce you to the G Series, and let you get acquainted with this luxurious and sophisticated line with a healthy list of standards, yet still customizable to fit your needs.

Features
The G Model boats from Bennington are timeless. We love this line of classic pontoons that are a study in craftsmanship and superior quality. With the G Series, premium is standard. Do you appreciate the finer things? You are doing well, succeeding, saving, and you deserve the best that the American dream has to offer. The G Series provides an automatic upgrade. Your new pontoon will be outfitted with illuminated speakers for late-night concerts, an integrated bow cooler to keep all your favorite beverages at the perfect temperature and right at hand, a custom steering wheel that will make you feel like the captain of your fate, and either diamond-stitched pillowtop or G-sport furniture. Take a look at all the gorgeous features that are standard when you step into the G Series.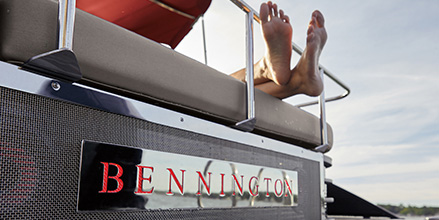 Furniture Layouts
Which layout will best suit the way you enjoy your pontoon? There are six floor plans from which to choose:


The Quad Bench is popular because it really maximizes storage, seating, and lounge space. This one is great for families with lots of kids.


The Swingback is an innovative configuration that allows users to face forward or backward, which is a very cool option to have when you are boating in beautiful places.


The Stern Lounge is a Bennington original. Bennington enthusiasts know and love this layout that we pioneered. They appreciate the comfort and vista view from the aft of the pontoon.


The L-Bench is one of the most popular floor plans because it offers flexible seating, mass amounts of under storage, and easy boat access with a large starboard stern deck.


The Entertainment highlights the bar and dinette, with gorgeous accent lighting. If you live to entertain friends on your pontoon with craft cocktails, artisan beer, local cheeses and organic produce, this epicurean design is for you.


The Fishing layout gives avid anglers everything they need for a great day of fishing. Bass seats, live wells, rod holders, and all the amenities are included, plus the opportunity to outfit your fishing rig to your personal specifications.



The G Series is a sweet spot in our pontoon options. You can use your imagination to craft a boat that absolutely suits who you are and how you want to spend your summertime. Find a dealer near you.