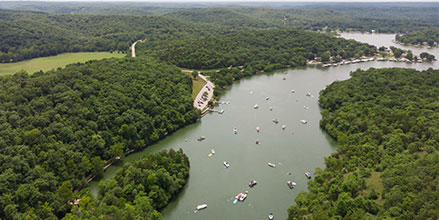 America's 6 best party pontoon boat destinations
For Bennington Pontoon Boat owners that are mobile and adventurous, it's time to dust off the map and start planning your summer party boating trips. If you are the type that prefers to see the world from the deck of your pontoon boat, then we have just the thing for you to plan your pontoon boat summer vacation.


Here are some of America's 6 best party pontoon boat destinations.


1. Lake of the Ozarks in Missouri. Known as a party capital for boaters, Lake of the Ozarks is known for a specific area called Party Cove. Expect the scene from a country music video including, floating coolers, water balloons and squirt guns.


2. Lake Cumberland in Kentucky. This boating destination is home to two things; Harmon Creek Party Cover and the current Guinness Word Record for the largest boat tie-up with 1,651 boats.


3. Lake Tahoe in California and Nevada. A non-stop party all summer long, Lake Tahoe is well known for pontoon boats, lake houses and Zephyr Cove's beachside bar and volleyball.


4. Lake Havasu in Arizona. A boating destination that has twice-featured MTV's Spring Break, is best represented by Bridgewater Channel, a half-mile stretch from London Bridge to Rotary Park that is everything you'd expect from spring break.


5. Lake Norman in North Carolina. The previous world record holder for most boat tie-ups, this southern party boating destination hosts the Social Olympics, a summertime tradition of drinking games and fun on the lake.


6. Lake Martin in Alabama. Often referred to as a floating trailer park party, this 41,000 acre-lake is home to many Alabama AND Auburn college football fans. The rivalry is well represented on the lake.


The U.S. is home to many great destinations for fun on the lake. We want to know what your favorite spot to party on your pontoon boat is. Comment below or share on our Facebook page.


Remember to always practice safe boating.


Contact a local Bennington dealer to learn more about finding the right pontoon boat for you. Learn more about Bennington Pontoon Boats at https://www.benningtonmarine.com