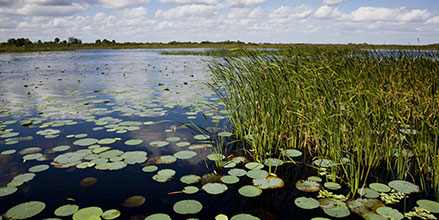 Five Great Florida Lakes for Pontoon Boating
There are more boats registered in Florida than in any other state in the nation. While the Atlantic and Gulf coasts get most of the press, Florida has outstanding lakes that are ideal for pontoon boating. Whether your preferences are for fishing, swimming, camping, or sight-seeing, it's hard to beat some of these great opportunities in the Sunshine State.


Lake Okeechobee


Lake Okeechobee is the second largest freshwater lake in the Lower 48 states and the largest in Florida. Well known for its healthy population of largemouth bass, it often serves as a tournament location for the world's most elite bass tournaments. But it's not all about prized gamefish: anglers can also catch good numbers of bluegills and sunnies. The 110 mile Lake Okeechobee Scenic Trail (LOST) runs around the shoreline, connecting many nature preserves and parks and providing a superb setting for hiking, biking, horseback riding and watching birds and other wildlife.


Lake George


Located near the Ocala National Forest, at the top of the St. John's River, Lake George is brackish, combining fresh and salt water for a highly productive ecosystem that supports migratory waterfowl, alligators, and several normally marine species including stingray, mullet, and striped bass. It is the site of one of the world's few non-marine blue crab fisheries. Pontoon boaters love its open waters with an average depth of 12 feet. Anglers often catch near-record-breaking striped bass in this lake.


Lochloosa Lake


Pontoon boaters can choose from three public launch sites on 5,700 acre Lochloosa Lake. It's well-known for bass, redear sunfish, bream and black crappie. Much of it is within the Lochloosa Wildlife Conservation Area, and large stands of old growth cypress along the shores make it a superb place for wildlife watching.


Lake Dora


One of the prettiest Florida lakes is Lake Dora which is part of the eastern Harris chain of lakes. The scenery around this lake is simply amazing. Access to this 4,502 acre lake is through a small inlet at the bottom of Lake Beauclair. Be careful bringing your pontoon through the canals, because they are quite shallow in places, but you will be rewarded with outstanding bass fishing. The Sunnyland chapter of the Antique and Classic Boat Society holds a renowned antique boat festival there every November.


Rodman Reservoir


One of northeast Florida's premier lakes for largemouth bass, Rodman Reservoir covers 9,500 acres on the Ocklawaha River. Free public boating access is available at several locations. The lake was created by flooding forested land, and submerged trees occasionally float to the surface, presenting a hazard to navigation, so keep a sharp lookout while under way. Supplies are hard to find on the lake itself, but nearby Palatka and Welaka provide good choices. Drawdowns for habitat protection occur every three or four years, so don't plan a trip there before checking.


Visit www.Benningtonmarine.com for the finest in pontoon boats to enjoy these great Florida lakes.