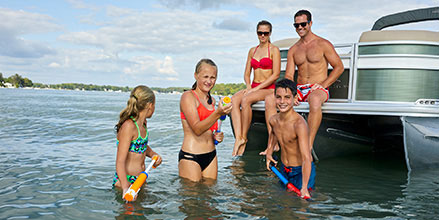 Customizing Your Pontoon Boat for the Entire Family
It's no secret to Bennington Pontoon Boat owners that owning a Benny is fun for the whole family. Our luxury pontoon boats are built for all occasions with your family and friends in mind.


If you're considering buying your first Bennington Pontoon Boat, or would like to upgrade your reliable existing model, we have some ideas for you.


Here are 3 ways to customize your pontoon boat for the entire family.


Children


If you have children, regardless of age, there are a number of things to consider. First, be sure that you have personal floatation devices (PFD's) that properly fit and secure each child. Not only is it the law to have a lifejacket on board for every passenger, but it's also important to be sure children are wearing one appropriate for their body.


With teens, think entertainment. A quality, working stereo can make the difference in a day to remember and a day spent trying to keep your teen from falling asleep. Pontoon boats are a great way to bond with your child, use this time to listen, sing or dance to music that you both can enjoy.


Husband or wife


An evening on the lake with your significant other can simulate a romantic vacation, without all of the trouble of leaving home. Equipping your pontoon boat with a grill for dining by sunset, a cooler for surprising him or her with champagne and blankets to keep warm under the stars are simple ways to make the pontoon boat their new favorite place.


Dogs


Finally, we can't forget our four legged friends. Dogs love to be out on the water. Whether they're diving in to fetch a ball or just along for the ride, there are many things that can be done to keep your canine happy and healthy.


First, be sure that you have a lifejacket for your dog. While they may be a champion swimmer, they often do not know their own limits and if they are searching for a toy that has sunk to the lake floor, or cannot easily get back on deck, they can easily get tired. In addition to lifejackets, be sure that you only use toys that float when playing fetch, and use a doggie ladder for easy access back into the boat.


Contact a local Bennington dealer to learn more about finding the right pontoon boat for you. Learn more about Bennington Pontoon Boats at https://www.benningtonmarine.com