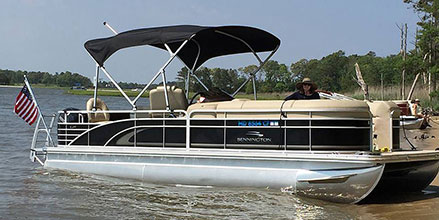 Enjoying the 4th of July on the Water
Nothing says 4th of July like an evening on the water when you're aboard a fabulous pontoon boat. Imagine the spectacular view of the fireworks celebration bursting above you up close and personal as you cruise along.
There are so many wonderful benefits to choosing this type of watercraft for night boating. First, a pontoon Bennington is designed perfectly for family and friends in performance and construction. There's plenty of space for folks and their gear, young children can freely walk about, and you can dine on incredible meals cooked on the grill and served on deck.
In addition, this kind of popular watercraft is simple to navigate, especially for beginners. Boating experts recommend it because its structure offers good stability and weight.
To get ready for your fab 4th of July excursion on a luxe pontoon boat, gather a few key essentials. These include plenty of water, and of course, some sunscreen and lip balm if you are taking in the rays before nightfall. Always take enough properly-fitting life jackets for all guests, including adults and children, a radio, an emergency flashlight, etc. It is also recommended to have with you a safety guide written by the U.S. Coast Guard Auxiliary for night boating and watching fireworks. Always remember that a little smart preparation goes a long way.
Great food and great guests blend beautifully together while cruising on the grandeur of a pontoon boat. Grilling is fun, and there's ample square footage with a stable platform and open decks on this watercraft to create exceptional cuisine. Charcoal, electric or gas-powered, it's really up to you, and the aroma of grilling food while upon the water is mouthwatering to say the least.
Check out some of our favorite recipes that you and your guests can enjoy on Independence Day.
We feature three simple recipes, giving you the choice of seafood, beef or poultry. All are delicious and quick to prepare.
1. Grilled Skirt Steak with Blistered Tomatoes and Guacamole. This is so yummy and only takes about 15 minutes to grill up the tomatoes and steak. Joined with chunky guacamole and the tangy taste of cilantro, this dinner is a winner.
2. Foil Pack Grilled Salmon with Lemony Asparagus. If you love the fresh taste of salmon paired with asparagus and a zing of lemony butter, then guests will be wowed when you bring this to the pontoon table. Just 10 minutes to grill and garnish with dill, and you're in seafood heaven.
3. BBQ Grilled Chicken. Breasts and drumsticks coated in a spicy barbecue sauce with honey, lime and hot sauce are a really good thing. Add some roasted corn on the cob grill-style, and your delicious meal is ready to enjoy in 20 minutes.
It's all about food, fun and a night boating celebration with the ultimate traditional finale of 4th of July Fireworks.