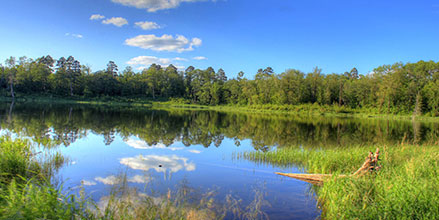 Five Best Boating Lakes in the Midwest
Okay—we know it's impossible to name the five "best lakes" in the Midwest. There are almost 12,000 lakes in Minnesota alone, and no one has tried them all. Of course, what makes a lake great is a matter of opinion and why you go boating. The best lake for water skiing isn't the best for fishing, and that one probably isn't the best lake for sunsets, or swimming, or visiting waterfront restaurants, or doing whatever else you like to do on your pontoon boat. Any lake you park your Bennington on is probably the best lake of all.


Nonetheless, we asked some of our dealers and customers for their favorites, and we got some great feedback. So here's a list of five "great" lakes in the Midwest. All are worth a visit.


Tappan Lake, Ohio


Part of the Muskingum Watershed in eastern Ohio, Tappan Lake draws boaters from around the region. Featuring 2,350 acres of water and 30 miles of shoreline surrounded by 5,000 acres of parkland, the lake's northwestern arm is a haven for water skiers.


Elk River Chain of Lakes, Michigan


Image Credit: Lake Lubbers


The 75-mile-long Elk River Chain of Lakes offers space for numerous outdoor activities. Canoeists and kayakers can travel the entire route across 14 lakes and two dams, while powerboats stay in the larger water bodies at the lower end, including Torch Lake. This massive, deep waterway is a popular haunt for sailing, windsurfing and water skiing.


Lake Mille Lacs, Minnesota


Covering more than 132,00 acres, Lake Mille Lacs is the second largest in Minnesota. With depths of 20 to 38 feet throughout most of the lake, it offers great fishing for walleye,northern pike, muskie, and large- and small-mouth bass. Mille Lacs National Wildlife Refuge covers two islands near the center of the lake and is an important breeding site for terns, gulls, and cormorants. Visitors are encouraged to do bird watching from boats.


West Lake Okoboji, Iowa


Part of Iowa's Great Lakes, spring-fed West Lake Okoboji is one of the state's most popular destinations. Formed by glacial activity, this natural lake has a striking blue hue making it the crown jewel in the chain of interconnected lakes. Covering 3,800 acres, the depth of the lake draws anglers, boaters, water skiers and other water sports enthusiasts. Relax on a sunset cruise or feel the adrenaline rush while parasailing or wakeboarding.


Lake McConaughy, Nebraska


Located in southwestern Nebraska, 20-mile-long, four-mile wide Lake McConaughy covers more than 35,000 acres. With over 100 miles of shoreline, it is ideal for boating and provides ample space for cruising, water skiing, tubing and parasailing. Known as "Big Mac," the lake is also popular with swimmers, anglers and windsurfers.


Of course no list of five lakes can even scratch the surface of great boating opportunities in the Midwest. Go to our Facebook page to show us photos of your favorite place to take your Benny.