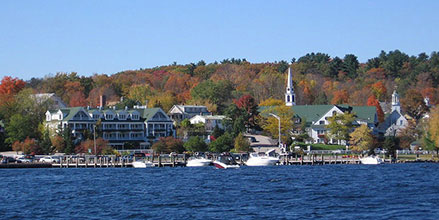 Five Northeastern Lakes Worth Visiting
Summer is a great time of year to explore the country and introduce your boat to new lakes and new experiences. Have you ventured to the Northeast, and New England in particular? It has some of the country's most appealing scenery and a variety of lakes that offer great cruising, swimming, fishing, sight-seeing, and sunset-watching.


Here are five lakes in Maine, New Hampshire and Vermont that are well worth trailering your Benny to.


Lake Winnipesaukee, NH


New Hampshire's largest, Lake Winnipesaukee is nestled in the middle of the state, south of the extensive White Mountain National Forest and north of Boston. The surrounding towns are Meredith (shown), Gilford, Alton, Wolfeboro, and Laconia. This large lake welcomes boating, biking, and shopping (there is no sales tax in New Hampshire!), and there is zip lining not far away. Weirs Beach is one not to miss, with its 1,300 foot boardwalk, restaurants, sunset cruises, mini golf, arcades, bumper cars, train rides, and fireworks during the summer months.


Sebago Lake, ME


Sebago Lake is the second largest lake in Maine. You'll find many campgrounds and vacation rentals to stay at and numerous marinas to launch or rent a boat from. In the middle of Sebago Lake is Frye Island, where you can tie up to a dock and grab lunch or dinner at a friendly restaurant. Sebago Lake State Park has an excellent boat launch, and you can relax on the beach, let the kids run wild on the playground, pick up some delicious fried dough at the snack shack and enjoy it at the nearby picnic area. You're only 30 minutes from the hip little city of Portland, where you can check out historic sites, boutiques, yummy waterfront restaurants and lots of creative cuisine.


Lake Champlain, VT


With 490 square miles of surface area, Lake Champlain is considered by some to be the "sixth Great Lake." It's shared mainly by Vermont and New York State, but the northern end is in Quebec, so you can visit two states and two countries in a single day's cruise. It has more than 200 miles of shoreline, along which there are bike and running paths and countless marinas—some upscale and exclusive, others more welcoming to all comers. Public boat ramps and parking areas also run the gamut from excellent to marginal. For an evening of pure relaxation, take one of the Lake Champlain Ferry routes to catch a sunset. If you are looking for land-bound adventure, there are many fabulous mountain hiking trails within an hour of Burlington. With several colleges in the area, there is a healthy youth culture bouncing around Lake Champlain. There are a few campgrounds right on the water and many gorgeous waterfront vacation rentals with dock amenities. Lake Champlain's mountainous scenery is unforgettable.


Silver Lake, VT


This place is not located in storybook: it is real! Vermont's Silver Lake is a beautiful place for boating, swimming or just hanging out. Southwest of Burlington, it's a small lake that is often overlooked, but you may enjoy it for its simplicity and quiet. You can camp at Silver Lake State Park, which is known for its wildlife and fishing.Expect to catch largemouth bass, northern pike, pumpkinseed sunfish, yellow perch, and rock bass.


Rangeley Lake, ME


Rangeley Lake is in northwestern Maine, tucked away and waiting to be discovered. Actually, rediscovered, since it was popular in the 19th century among big-city-folk from Boston, New York, and Philadelphia to come and relax, or "rusticate," as they called it. If you are looking for a vacation of complete relaxation, serenity and moose watching, you'll find it here. Rangeley is a small town offering a few delicious restaurants and a bowling alley called Moose Alley (of course). The lake's water is clean and waiting for a cannonball splash, and boat traffic is moderate—never so heavy that you can't find a quiet place to anchor and soak up some rays. There are mountains all around and beautiful vacation rentals available at reasonable prices.


Picking just five visit-worthy lakes in New England can be controversial, since there are actually hundreds of them. Tell us your favorite, and let us know why.