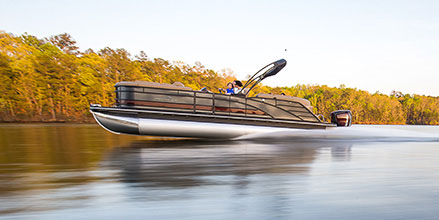 Four Great Autumn Pontoon Boating Destinations
While summer might be the season that comes to mind as the prime time for your pontoon boat, autumn opens the door to endless possibilities for boating destinations. The crisp air makes you feel alive, as you are no longer battling the oppressive heat. The explosion of fall foliage will take your breath away, and the opportunity to escape on the water before winter arrives makes each journey irresistible. Seize the moment as you enjoy the gift of fall weather and enjoy some of the following boating destinations in autumn.
Experience the Adirondacks
The Adirondack Park in upstate New York offers you more than the mountains and forest. You have thousands of lakes at your disposal to give you prime boating opportunities. Load up your pontoon boat and get ready for an unforgettable, weekend getaway. Lake Placid, Blue Mountain Lake, and Lake George are only a few of the favorites that await you.
Head North to Bar Harbor
Bar Harbor is a favorite destination in Maine at any time of the year, but you'll see fall finery at its best when you venture out in your pontoon boat in the autumn. Experience Maine's rocky coastline and the Acadia National Park. When you're ready to come back to the dock, you can do some sightseeing on land or try some seafood to cap off the day.
Visit Lake Michigan and Saugatuck
Saugatuck is a quaint town situated on Lake Michigan that offers you an incredible view through October. Enjoy nature's finest and a lovely place to stay the night when your boating adventure is done. You'll find that any of the Great Lakes are ideal for autumn boating as you experience all that the region has to offer.
Drift Away on Tennessee's Lake Tellico
Head further south and you'll find that the fall foliage hangs on longer, allowing you to enjoy more seasonable weather and autumn colors into November. Hold off winter a little longer and wait before you pack your pontoon away for the season. Lake Tellico offers you many opportunities to explore the waterways as it merges with the Tennessee River and Fort Loudon Lake. The Great Smoky Mountains will rise above you, giving you an unforgettable view while you take in your Tennessee surroundings.
Pick your pleasure. Fall has a bountiful assortment of boating destinations waiting for you.