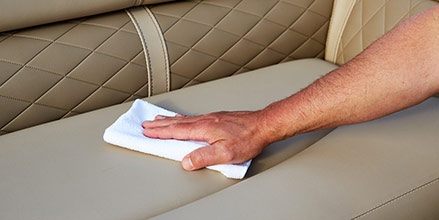 Offseason Pontoon Boat Safety Check, Repairs and Improvements
It can be difficult for Bennington Pontoon Boat owners in the north to sit idly all through the cold, wintery off-season thinking about when they'll be able to take their boats back out on the water. Instead of pacing around the house, why not take this time to make repairs and improvements to your pontoon boat?
When it comes to safety, there are a few items you should take care of during the winter to be sure your pontoon boat is ready for the water as soon as the warm weather is back.
Make sure that your boat is registered and has all of its state paperwork up to date.
Make sure that your fire extinguisher is in proper working order.
Check the pressure gauge. The needle should be in the green zone, not too high or low.
See that the nozzle has not been hindered and that the pin and tamper seal are completely intact.
Check for any dents, rust, leaks, signs of abuse, wear or chemical deposits.
The winter is a great time to make sure your boat is in pristine condition for the following year. Here are a few steps you can take to make sure your boat looks like new. Be sure to consult your local Bennington Pontoon Boat dealer before using chemicals to treat or clean your boat.
Inspect any teak wood on the exterior. Properly treating your teak is less expensive than allowing the wood to wear down and having to replace it.
Having the boats interior detailed can help prevent mildew problems and odors.
Once you've ensured that your pontoon boat is in proper shape for next season, it's time to have a little fun and consider ways you can improve your boating experience.
Attending your local boat show is a great way to learn what products are available on the market.
Contact your local Bennington Pontoon Boat dealer and discuss what accessories can be added to your pontoon boat. Dealers are familiar with what other owners are buying and what products are best for accomplishing the experience you're looking for.
Make this offseason a productive one by prepping your boat for spring!
Contact a local Bennington dealer to learn more about finding the right pontoon boat for you.