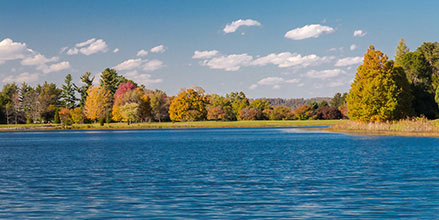 Top 5 Kentucky Lakes for Pontoon Boating
There are few things better to do in the great state of Kentucky than head out on the water for a day of fun and relaxation. Looking for the best place to launch your Bennington pontoon boat? Check out our short list of the top lakes for Kentucky boating enthusiasts below!
1. Lake Cumberland
This is Kentucky's largest lake by volume, stretching across 6 counties in total and offering boaters a secluded paradise to explore. Locals visit Lake Cumberland to relax and enjoy everything from kayaking, rafting, swimming, waterboarding, fishing, water skiing and more.
2. Kentucky Lake
One of the largest lakes in the state, Kentucky Lake sits right along the Tennessee River and offers boaters more than 160,700 acres of freshwater to explore. Known for its superb fishing, you'll find yellow perch, buffalo carp and white bass in these waters. Kentucky Lake also offers several cabins and resorts for a long weekend or extended vacation.
3. Lake Barkley
Created upon the completion of the Barkley Dam, this beautiful lake features more than 100 miles of shoreline. Nestled in a 17,000-acre park (lake barkley state resort park) that features boating, swimming, fishing, horseback riding, golf and hiking – this is the ultimate destination for a weekend getaway.
4. Laurel River Lake
If fantastic natural sights are something you enjoy, then it's time to make a trip out to Laurel River Lake. Located within the stunning Daniel Boone National Forest, this 5,700-acre lake is a popular destination for boating, scuba diving and swimming. If fishing is your goal for the day, you're sure to find everything from rainbow trout to black bass, catfish and crappie in the waters of the Laurel River Lake.
5. Buckhorn Lake
If you're looking for a secluded and magical place to spend a few days out on your Bennington pontoon boat, then this is the spot for you. Tucked back among the Appalachians, Buckhorn Lake State Resort Park has activities for the whole family to enjoy including mini golf, swimming, fishing, and hiking.
Explore the Best Lakes in Kentucky
Ready to get out and discover the best Kentucky boating spots? With so many stunning natural waters to offer, it's no wonder boating enthusiasts from around the country love to visit the great state of Kentucky. Before you plan your next big trip, be sure to check out the latest selection of high-performance Bennington Pontoon boats and find your local Bennington dealer today.