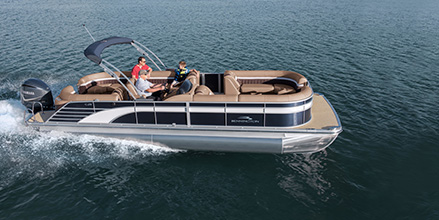 Top Five Best Louisiana Lakes for Pontoon Boating
Louisiana is well-known as one of the best states for fishing and pontoon boating in the United States. Boating in Louisiana offers residents and visitors alike access to deltas, marshes, swamps, and gorgeous lakes. Whether you're interested in exploring the Kisatchie National Forest or want to make your way down toward the Gulf of Mexico, there is something for every pontoon boating enthusiast to enjoy in this beautiful state. Keep reading to learn more about a few of our favorite Louisiana lakes.


Five Best Louisiana Lakes for Pontoon Boating


Caddo Lake
This 31,160-acre lake is known to many as "the most beautiful lake in America." Located along the Louisiana-Texas line, just northwest of Shreveport, Caddo Lake is about 12 miles wide and 16 miles long. Anglers here can expect to find plenty of largemouth and spotted bass, channel and flathead catfish, black crappie, bluegill warmouth and more.


Cane River Lake
Cane River Lake may be more well-known to most Americans than they realize, as it served as the backdrop for the beloved Hollywood film "Steel Magnolias." Located near Natchitoches, Cane River Lake offers Louisiana boating lovers a 35-mile stretch of water to explore and plenty of bass just waiting to be snatched up. Additionally, this beautiful and welcoming lake can easily accommodate paddle boating, sailing and water sports.


Lake D'Arbonne
Located in Union Parish, Lake D'Arbonne consists of 15,250 acres of water that resembles a flooded cypress swamp. The area is suitable not only for boating but fishing and hunting as well. If fishing is your sport of choice, you're sure to find good catches of catfish, crappie, bream and more here.


Calcasieu Lake
Located in southwest Louisiana, the 49,174-acre Calcasieu Lake drains into the Gulf of Mexico and offers some of the most spectacular views around. Anglers love frequenting this gorgeous lake to find good catches of everything from red drum to spotted sea trout, flounder, white shrimp and much more.


Cross Lake
Cross Lake has long been known as a popular place to catch bass as well as white perch, bluegill and catfish. Located just west of Shreveport, this 8,648-acre lake is also the city's main water supply. In addition to pontoon boating and fishing, locals enjoy swimming, wildlife watching and more at this picturesque lake.


Discover Your Favorite Louisiana Lake with Bennington Pontoon Boat


Ready to head out on the water? Find your local Bennington Pontoon Boat dealer today to learn more about our 2019 models.