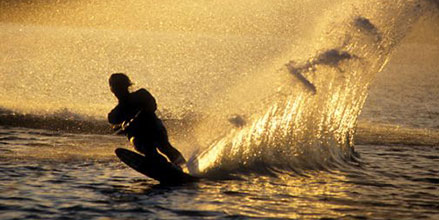 Be Safe When Towing Skiers or Tubers
Learning to water ski creates a memory that can last a lifetime, and tubing lets you enjoy a ride on the water as well. Summer boating gives you the opportunity to experience the outdoors with family and friends, but you need to understand and obey the rules for towing that keep your riders safe. Riders have responsibilities too.
Getting Ready
Even expert skiers fall off their skis, and life jackets that the U.S. Coast Guard approves keep your skiers afloat until you can pick them up. Share your knowledge of riders' hand signals with your riders to communicate with them during the ride. Make sure that you have an observer on board who can watch the rider at all times.
Tips for Driving
The safety of your riders rests with you. Skiers can learn to steer, but tubers must go where you take them. Let your observer inform you of the rider's status so that you can keep your eyes on the path ahead to avoid obstacles, other boats, docks and the shoreline.
With the skier or tuber in position for a takeoff, make sure that the towline does not wrap around the propeller or the rider.
Accelerate slowly when your rider has the towline in hand and signals readiness to begin.
Adjust the speed of the boat to match your rider's ability.
Drive a straight path that avoids sharp turns.
When a skier or tuber falls, make a rapid pick-up.
Position the boat so that you can see the fallen rider and arrange the pick up on your side of the boat.
As you get near the downed skier or tuber, turn off the engine.
In case a rider is hurt, enter the water to offer assistance.
Tips for the Rider
Falls come with water skiing when you learn the sport, and you may have a spill whenever you try out a new trick. Tubers may get dunked during a ride, making it essential for riders to wear a life jacket. Life belts cannot provide the protection that you need.
Learn and use hand signals that let you communicate with your driver.
Keep your eyes peeled for hazards that may lie in your path so that you can try to avoid them. Swimmers, rafters or submerged objects can cause an accident.
Anticipate the need to handle a wake that passing boats may create.
Relax when you fall so you can enter the water smoothly.
Execute a stop whenever you choose. Releasing the tow bar lets you gently settle into the water as you sit back on your skis.
A day of water skiing or tubing provides exhilarating exercise and relaxation. Preparing to participate in water sports requires adherence to safety precautions that keep you safe while you enjoy summer boating on a lake, river, gulf or ocean near you.