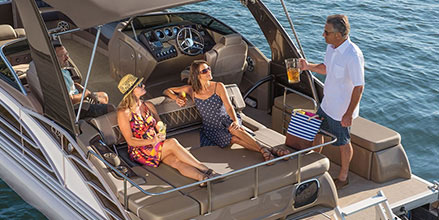 Celebrate Labor Day on Your Bennington
It's hard to believe, but summer is ending. Yes, in the blink of an eye, warm sunny days are becoming a thing of the past and fall is creeping in. That doesn't mean that there isn't still plenty of time to enjoy a cruise on your Bennington Pontoon. Labor Day weekend is the ultimate end-of-summer celebration; a final hurrah for all that is fun. Invite some friends and pack a lunch because we've got a few ideas to celebrate Labor Day on your Bennington Pontoon.


Snacks, snacks, and more snacks!


There is no greater staple for summer fun in the sun than having the right snacks along for the ride. Chips, dips, and salsas scream summertime and are the easiest way to keep your guests smiling on the water. If you have a garden, your veggies are likely ripe for harvest, so making your own salsa is not only a great use of those tomatoes and onions, but also an appropriate way to celebrate the last summer harvest.


Elise Bauer of SimplyRecipes.com has a delicious recipe for whipping up a batch of Fresh Tomato Salsa in a snap.


You'll need:


2-3 medium-sized fresh tomatoes (stems removed)
1/2 red onion
1 jalapeño chile - or your choice of hot pepper (stems, ribs, seeds removed)
Juice of one lime
1/2 cup chopped cilantro
Salt and pepper to taste
A pinch of cumin and oregano to taste


Simply, rough chop the tomatoes, onion, and pepper and toss into a food processor with the lime juice to pulse a few times. Then add to a serving bowl with salt and pepper and seasonings. Allow to sit for a few hours before serving.


Beverages


You can't spend a day in the sun without plenty of refreshing beverages for everyone on board. Start by bringing plenty of water to keep everyone hydrated. Flavored seltzers are a crowd pleaser, so throwing a few flavor options on ice are an easy win. But, if you're looking to do a little more, you can't go wrong with a tall pitcher of lemonade.


According to DeliciousMeetsHealthy.com you'll need:


8 large lemons
2 cups sugar (or 1 1/4 cups honey)
8 cups water
1-2 lemons, sliced for garnish (optional)


Just cut, squeeze, mix, and pour over ice to create summertime in a glass.


Safety


Finally, while you're packing up fishing poles, tubes, and water skis, don't forget boating safety. Make sure every passenger has a personal floatation device that fits them comfortably, perform a pre-cruise inspection to make sure your pontoon is ready to go, and always assign a spotter to assist the captain with monitoring for boat safety during your outing.


Now that you're fully equipped for a great day of pontoon boating, the only thing left to do is to find your next Bennington Pontoon Boat at a dealer near you.