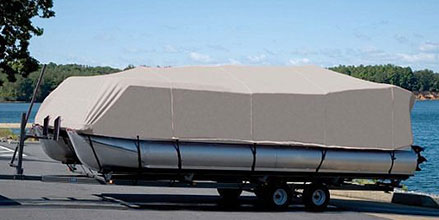 Winterizing Your Pontoon Boat
If you own a beautiful Bennington Pontoon Boat, it can really be your pride and joy. Times spent on your boat this boating season will always provide fond memories, but alas, the season (especially up north) is winding down. Now may be a very good time to start thinking about winterizing your boat.


Pontoon boat maintenance is essential throughout the year. Pontoon boat winterization is as important as any measure you can take to ensure your boat will be at its best when next year's boating season comes around.


There are several important steps that should be taken to effectively winterize your boat.


Correctly store your boat


You can store your boat in-water over the winter, but it's recommended you pull it out and store it on land. This should be easy enough to do, and will enable you to do proper outside cleaning, as well.


Whether storing indoors or outside, cover the boat tightly to keep out dirt, dust, snow and ice, and other debris. Shrink wrapping is a bit more expensive, but it's the very best cover available, and should be a serious consideration here.


Clean the outside of the boat


Barnacles, dirt and other debris can be removed by using a plastic or metal paint stripping tool, followed by lime cleaner. Finish with a nice polish, and the exterior will be looking good for the spring.


Clean the inside of the boat


A quick wash-down, vacuuming, and steam cleaning of carpets can make the interior look nice, and is an important element in pontoon boat maintenance. Do this a few days before covering to enable everything to sufficiently dry.


Remove and store equipment


Take out anything that's not "tied down," and store indoors if possible. In particular, remove any electronic equipment (sonars, GPS, etc.) Try to minimize what has to ultimately stay onboard, and this will provide a bit more peace of mind over the winter knowing such items are out of any inclement elements that may arise.


Care for the gas tank


It is recommended by many experts to fill the gas tank to 3/4, then add a gas stabilizer. 3/4 reduces the risk of evaporation and condensation; stabilizing will reduce unstable aromatic hydrocarbons in the fuel.


Manage the engine


Drain the coolant, then add antifreeze (a 50/50 mixture of antifreeze and water is effective up to -30F). This helps prevent corrosion and lime buildup.


Also, pull the battery and store indoors. Be sure to switch off any valves, and seal off exhaust ports.


There may be some questions about changing the oil and filter, as well as other issues that may come to mind. It's best to check the owner's manual for relevant information about any number of questions you may have. It's also a good idea to look online and see how other pontoon owners go about winterizing their boats. There are a lot of helpful hints out there