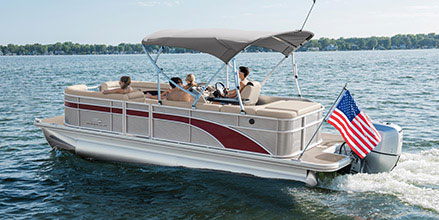 How to Polish Your Aluminum Pontoon
The day you buy your Bennington aluminum pontoon is a thrilling one. A brand-new boat shines beautifully, reflects the sun, and shimmers on the water. It is perfect. However, from the moment you put it into the water, your prized possession becomes vulnerable to the elements. Minerals and chemicals, even the organisms living in the lake, will interact with the finish of your pontoon, and its initial glory will begin to dim and fade if you are not vigilant. Even before you notice the surface oxidation, it is happening. Be diligent and proactive in cleaning and polishing beginning the day you launch your craft, and you will enjoy a beautiful, pristine vessel for many seasons to come. Below are a few recommendations to care for your aluminum pontoon.
Proper pontoon care always starts with washing and cleaning. Rinse by hand with a sponge and bucket or use a hose or power washer regularly to remove algae, barnacles, scum, debris, and buildup.
Cleansers are critical for keeping aluminum sharp. Find one you like, such as Sharkhide or Bio-Kleen and use as directed. Sharkhide and Bio-Kleen both offer a multitude of products for cleaning, preservation and restoration. You will need to determine what you are trying to accomplish to select the appropriate products.
Your Bennington pontoon tubes are made of aluminum. If you want to maintain that striking mirror finish, invest in a good mechanical polisher. We recommend one that is powerful, but gentle. Dewalt, Makita, and Porter-Cable are all strong contenders. The process is somewhat labor-intensive, but it only has to be done a few times a season and takes about two hours for a 22-foot boat. Working in small sections, use a circular motion (or s-curve) to polish the tubes with your hand-held machine after cleaning, then clean once again to remove residue. The last step for any boater worth his salt is to apply Sharkhide, a sealant and protectant that ensures you get the most out of your hard work and effort.
Once you've completed these steps, you will witness a boat that boasts a mirror finish. Visit your local Bennington dealer today for more maintenance tips and tricks.