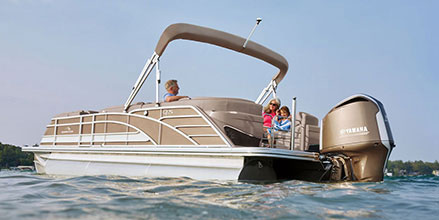 How to Polish your Bennington's Aluminum Pontoons
For Bennington Pontoon Boat owners, fall is the best time to be proactive about extending the life of your boat through the practice of proper maintenance. Since you likely won't see your boat again for a number of months, now is the time to address any concerns that may worsen over time. This includes items such as identifying mold, mildew, and other lifeforms that have grown as attached to your pontoon as you are.


Cleaning and polishing your aluminum pontoons is an important step in keeping your Bennington in pristine condition. Follow these tips for keeping your pontoons shiny and protected:


Use A Pressure Washer


You'd be amazed at the number of hours most pontoons spend in the water; ready at all times to entertain passengers while the elements slowly wear away at it. The first thing you're likely to notice when you pull your boat out at the end of the season is that the pontoons are looking discolored. Begin by using a pressure washer to remove the gunky film that has coated the area that sits below the water surface. A pressure washer alone will handle most of the grunt work and leave your pontoon looking quite sharp, but if you really want to go the extra mile, invest in proper boat cleaners to complete the job.


Invest In Specialized Boat Cleaning Products


Your pontoon boat consists of many different components and materials, so naturally you shouldn't use the same cleaner to cover all of them. You'll find a number of different boat cleaning products on the market developed specifically for aluminum, plastic, and fiberglass.


At the end of the day, the more time and care you give to the regular maintenance of your boat and aluminum pontoons, the longer you'll enjoy happy days on the water.


Now that you're fully equipped to tackle your next pontoon cleaning and polishing project, the only thing left to do is to recommend a Benny to a friend. Tell them to find their own Bennington Pontoon Boat at a local dealer.