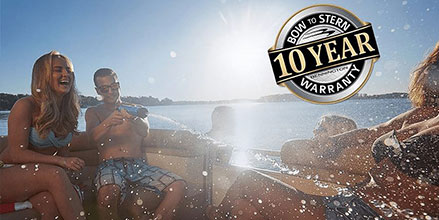 Bennington Offers Industry-Leading 10-Year Pontoon Boat Warranty
Bennington Marine now offers a 10-year bow-to-stern warranty on top of our lifetime structural warranty. With this total coverage, we take care of 100% of the materials, parts and labor should something need attention, without the fuss and confusion that might come with other warranties. There are no hidden fees or third parties doing the work, and we stand behind every word.
The lifetime structural warranty guarantees that your Bennington will be solid and seaworthy every year. We will fix anything structural that goes wrong, whether it's the pontoons, motor mount, gates or frame channels. Should anything happen to your 7-ply, pressure-treated, marine grade decking, Bennington has you covered with a lifetime deck warranty. Rails are fastened through the deck to the under structure, reducing flexing that could warp the deck and hopefully preventing you from needing to make use of the warranty in the first place. However, in the off-chance that something does go awry with your decking, we'll take care of it.
For those who want complete protection from trouble, the 10-year bow-to-stern warranty covers all materials and workmanship on your Bennington, even the flooring, upholstery and electronics. The first five years are on us, and original owners of new 2017 model year Bennington pontoon boats can add an additional five years, for a total of ten years, when they register their Bennington.
Our warranties are transferable, adding great resale value to your boat. This can be done through any Bennington dealer. If you sell your boat during its warranty period, the remainder of the standard warranty coverage will be transferred to the new owner after a visit to an authorized dealer.
Should something happen to your boat that requires a warranty claim, we take care of it directly, without shifting responsibility to our suppliers. We know our boats better than anyone and would prefer to do the work ourselves so that we can guarantee a satisfactory outcome.
We will never pro-rate your warranty, meaning there is no declining scale of coverage as time goes on. Bennington boats have the same coverage on the last day of the warranty period as they do on the first, so you can expect the same great support no matter when you need it. Our dealers receive 100% of their retail shop labor rate when they perform warranty repairs, so they are always motivated to do a thorough, correct job. Whatever reason your pontoon boat is in for, it will be a priority for the dealer to make sure you're happy.
Get more information about the Bennington warranty. If you're already an owner, register your boat here.
If you have any questions about our 10-year bow-to-stern warranty or lifetime structural warranty, contact your local Bennington dealer, email us through our query form, or call (888) 906-2628.