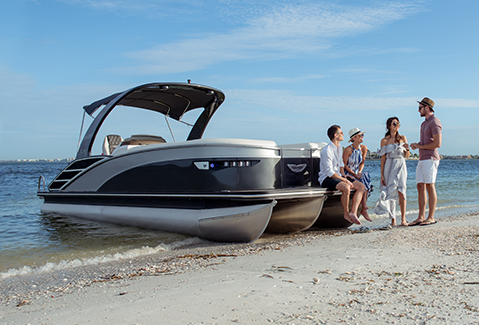 Smooth aluminum cladded exterior rails are an exclusive RX Sport design creating a stunning, premium look that will make you the center of attention wherever you cruise.
Attention to detail, unique colors and rich, luxurious finishes are found throughout the interior of the exclusive RX Sport interior with custom stitching, embroidery, and Bennington's Sport winged emblem.
A uniquely crafted arch brings together a stunning design with an aggressive edge and superior towing performance for watersports. Optional power-folding capabilities allow for easy transport and navigation.
The smooth aluminum cladded exterior of the RX Sport is enhanced with polished stainless-steel accents that hint at the sinister performance lurking beneath its sleek surface.
Similar to a sports car, the bow's exterior top rail is tapped, contributing to the athletic look which is unique to the RX Sport boats.
Seamless integration is a hallmark of all Bennington pontoons, but the RX Sport puts an exclamation point on it with expertly crafted, rail-integrated dock, and navigation lights.

An innovative floor plan that enables dual seating capabilities by allowing users to face forward or backward depending on the position of the furniture back. Want the ultimate in flexibility, option the all-new 5 position Deluxe Swingback lounger.
Image & Video Gallery of RX Sport Model
( / )