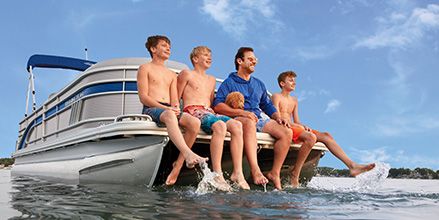 How Much Is A Pontoon Boat?
If you've come to the decision to buy a pontoon boat, you're probably daydreaming about the memories you'll make on the water with your friends and family. These memories will feel priceless, but in reality, a pontoon comes with a price tag.
It can seem tricky to figure out exactly how much your boat will cost you, but once you have a breakdown of the costs of owning a pontoon — from the initial investment to the regular maintenance required — you can make a decision about which boat best meets your needs.
Pontoon Boat Cost
How much your pontoon will cost depends on if you're looking for a new or a used boat, the size and floorplan you're looking for, and the amenities you'd like. The differences between all these options can cause the cost to vary by thousands of dollars.
How Much is a New Pontoon Boat?
When you're wondering how much a new boat costs, keep in mind that the price largely depends upon what you're looking for. The size of your boat and the accessories will determine the total price. Bigger, newer pontoons or tritoons with luxury features will cost more.
Overall, Bennington pontoon boats range from about $21,000 for the SV Line — the S Series is Bennington's entry-level, affordable option — to more than $200,000 for the flagship Q Series, the most luxurious choice.
How Much is a Used Pontoon Boat?
On average, a used pontoon can go for as low as $10,000. Getting a used boat is a lot like getting a used car — it can still get the job done well and save you lots of money, but has depreciated in value over time and won't be customized to your preferences.
To find out if the price of a used pontoon is fair and aligns with the actual value, check out the National Appraisal Guide. If you're looking to sell or trade-in your Bennington boat, you can find out your boat's estimated value online.
What Pontoon Size and Type are You Looking For?
When determining what size pontoon boat to get, consider your budget — bigger boats get more expensive.
To figure out what will work for you, be realistic about how many people you'd like to have on your boat and the size of the body of water you'll be cruising on.
If you picture yourself listening to music and cruising on a small, calm body of water with just your closest friends and family — up to about eight people — then a 17 to 19-foot boat will work best for you. If you plan to take a bigger group of around 13 people on your pontoon out on lakes and rivers that don't have big waves, then a 20 to 22-foot boat will be suitable.
If you plan to entertain a group of 15 people and think you may encounter rough water, then 23 to 28-foot boats will get the job done.
Consider what activities you'll be doing to determine what type of pontoon you want — one designed with fishing or entertaining in mind, a luxury model, or a boat with more horsepower for watersports. Your local Bennington dealer can help provide you with peace of mind and advice as you talk through the process.
Pontoon Boat Maintenance Costs
Pontoons aren't just a one-time investment. There are ongoing, necessary costs for upkeep. Knowing how to maintain your boat and keep it in the best shape possible is important so it lasts for decades.
Cleaning Costs
When caring for your boat, you'll need to clean the inside and outside of your pontoon. Avoiding discoloration and keeping your boat in good shape is fairly simple — wash, clean, and polish your boat regularly.
If your boat is in good shape, give it a simple rinse by hand with a sponge or use a hose.
Before you store your boat for the winter, you can wash it with a product made for aluminum, such as Sharkhide or Biokleen, which can cost you around $30, then add a new protective layer of wax or polish as needed.
Add caring for your boat's other maintenance needs to your cleaning checklist. You'll need to change the fuel filter on your boat's engine at the beginning of each boating season. At the same time you should:
Check fuel and fluid levels

Check spark plugs

Look for signs of rust and wear and tear

Check for mildew, holes, cracks, and signs of pests that could have caused damage during the off-season.
Check out your boat manual to determine what kind of maintenance is recommended for your engine and parts. Some owners prefer to have their dealer handle this spring checklist while taking the boat out of storage.
Repair Costs
When it comes to repairs, you can breathe a sigh of relief. All Bennington boats come with a warranty. Your new Bennington comes with a Limited Lifetime warranty on the structure, pontoons, gates, channels, motor mount, and rotomold seat frames. For warranty repairs, contact your local Bennington dealer. For other repairs, check what your insurance policy covers.
Insurance Costs
Protect the investment you've made by getting insurance. Start by finding out if your pontoon is well-covered in your homeowner's insurance and figure out whether you want to go with an agreed value policy or an actual cash value policy.
The following could be taken into consideration with your insurance policy:
The size of your boat

How fast it can go

What you use it for

How many people will drive it

The type of motor

Where you go boating

If you're safety certified

If you have a good driving record (on the road and on the water)

What your liability limits are in relation to your premiums
You can also include fishing gear and your pontoon boat's trailer or other equipment in your policy.
Policies vary, so there's not one specific cost of pontoon boat insurance. But, you can expect to spend at least $200 a year on insurance.
Storage Costs
Storing your boat indoors is ideal, but it's possible to store it outside as long as you first fill the tank, prep the engine, clean your pontoon, and cover it or shrink wrap it. Outdoor storage requires you to keep the boat off the ground, such as on its trailer.
If you don't have room at home and want indoor storage, you can rent storage space in an indoor or outdoor self-storage facility or dry-stacked storage.
How much storage will cost depends on the size of your boat — you'll pay more for a bigger boat — and where you live will also factor into pricing. It's best to plan for $100+ per month for storage. According to Sparefoot, a company that shares pricing for self-storage units, the average price of a boat storage unit booked in Elkhart, Ind., was recently about $108.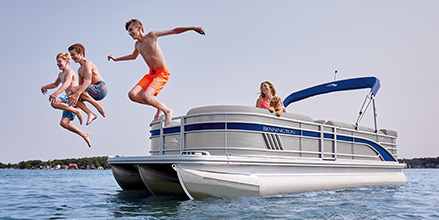 Pontoon Boat Accessory Costs
Selecting your accessories, customizing your boat, and buying what you need to fit your lifestyle are some of the most exciting parts of owning a pontoon! Before you purchase a trailer, pontoon cover, or any add-ons, talk to your local Bennington dealer to ensure you're buying what's suitable for your boat and location.
Watersports Costs
Watersports can be one of the most fun parts of having your own pontoon!
You can get tow ropes for about $40 or less, high-quality ladders retail for $100 and up, and floatable water mats and water skis start near $200. Most wakeboards cost between $200 and $400. On the low end, one tube costs around $80, while tubes that can fit multiple people can go above $300 each. Portable air pumps can be found for less than $30.
If you plan to sit back and relax while the kids or grandkids are doing watersports, don't forget your sunglasses, sunscreen, cooler, and koozies — the essentials that won't break the bank!
Trailer Costs
A trailer is a necessity to be able to move your boat around. You can get a scissor or bunk-style trailer for your pontoon. Scissor trailers have a support mechanism in the middle that sits between the pontoon boat tubes while bunk-style trailers fit under the entire boat.
The size of your boat and how far you'll be towing your boat are variables to consider. Scissor-style trailers make it simple to launch and retrieve your boat from the water while Bunk-style trailers are wider yet better for long drives.
Trailers cost several thousand dollars, but it depends on the type and what you're looking for. These trailer specifications can help you find the right trailer for your Bennington.
Cover Costs
A cover for your pontoon is a must to prevent scratches and dents, protect your boat from the elements, and keep it in pristine condition. Just remember that mooring covers aren't designed for winter storage since they aren't built to withstand snow and ice.
Expect to spend at least $500 - $1,000 depending on the size of your boat and how much protection you're looking for.
Add-On Feature Costs
Additional features are a great way to add a personal touch and some more fun to your boat. The options for add-ons can seem endless, whether you're considering boat furniture, waterproof speakers, windshield, gate glide, top deck waterslide, a bar, bimini top, or LED lights.
The best way to find out the cost of add-ons and to be sure they will be suitable for your pontoon is to get a quote from your Bennington dealer.
Financing Your Pontoon Boat
Owning a pontoon boat is a luxury and a worthwhile venture, but you do have to determine how you'll finance your pontoon. We want to help make the process of financing your boat as seamless as possible. Check out what resources we offer.
Pontoon Boat Financing Calculator
Figuring out your estimated payment is as simple as using our pontoon boat financing calculator to plug in your Manufacturer's Suggested Retail Price, rebate amount, down payment, estimated interest rate, and loan term. Of course, also consult with your dealer throughout the process.
Boat Financing Forum
Have a question? It's likely someone else has had the same one. From credit scores to loans, check out what advice Bennington owners have shared with one another or ask a question in our boat financing forum.