Owning a boat is an incredible pleasure and privilege. You get to experience the joy of nature and human connection as you host family and friends on the water, making memories that will last long after our high season has ended.
With the privilege of the boat, ownership comes responsibility. You will want to get acquainted with some of the basic points of owning a boat. Once you learn the ropes, you can get out on the lake and start having the time of your life.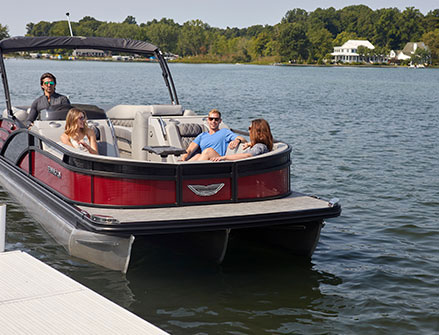 Will your boat be well-covered under your homeowner's insurance policy in the event of an accident? Determine whether an "agreed value" policy or an "actual cash value" policy (which costs less up front) is better for you. The underwriting company will take into consideration the size of your craft, how fast it goes, what it is used for, how many people will drive it, and the kind of motor you have. Some of the variables that will factor into the cost of your policy include where you go boating if you are safety certified if you have a good driving record on land and at sea, and what your liability limits and deductible are in relation to your premiums. Don't forget to get insured for towing your pontoon, as well.
Towing
Perfect timing to talk about towing. We've covered this topic before, but it is always worth a reminder. When you are excited to buy your first pontoon or your first in a long while, you think about the open water, the sun on your back and the wind in your hair. But remember, you do have to get your boat to and from the lake. Towing, while not impossible, is a skill one must master. Practice. Take it slow. And remember to factor it in when deciding on the size of your boat.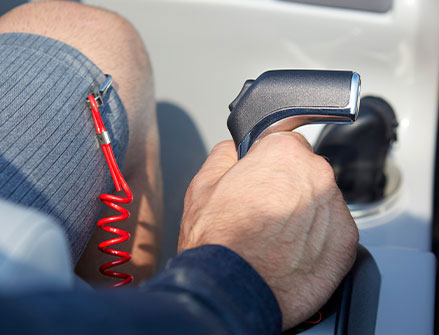 Safety is always our No. 1 concern when it comes to life on the water. Yes, pontoons are recreational, but you can't truly have fun unless you are sure you are prepared for the worst-case scenario. Have you taken courses in boating? Do you know CPR? Do you have all the communication equipment you need in case of an emergency? Cell phones and data plans go a long way, but they are no substitute for true emergency preparedness.
Once you understand the boat ownership basics, it's time to design a Bennington and find a dealer near you. Boating is one of life's great pleasures, and if you understand the risks and responsibilities, you will have better success addressing whatever arises.
Regular Maintenance
All vehicles must be properly maintained. Your pontoon boat, like all watercraft, faces many more natural elements than even your car. Plants, animals, and other environmental issues are of consequence if you take your pontoon on the lake. Add salt to the list if you go boating in the ocean. Wash your boat often, remove barnacles and other debris. Has it looked at by a professional boat mechanic? Take it to the dealer when necessary. These are not optional. If you take care of your boat, it should last you many happy seasons without incident.